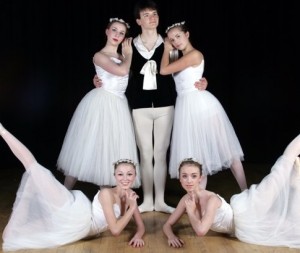 Giselle
Harlow Ballet Association
Harlow Playhouse
(Thursday performance)

Long recognised as "the crowning glory and supreme achievement of the Romantic Ballet", Giselle reflects virtually every emotion known to humankind.
Love, hate, desire, jealousy, fear, spite and compassion are all bound up in this story of "love stronger than death" and Harlow Ballet Association ensured every one was represented in this stunning production.
For alongside the impressive dancing – only to be expected where HBA is concerned – the story was relayed with great dramatic impact, each scene played out with strength and emotion.
The ballet, directed by Michael Branwell, concerns the peasant girl Giselle, who dies of a broken heart after discovering her lover has betrayed her. She had believed he was a peasant but he is, in fact, Duke Albrecht and is betrothed to another.
The Wilis, a group of supernatural women who take revenge on faithless men by dancing them to death, summon Giselle from her grave. They target Albrecht for death, but Giselle's great love frees him from their grasp.
All very tragic and dramatic, but the performance started on a bright note as the youngest members of HBA took to the stage to welcome the sunrise in a delightful display which must have thrilled parents and grandparents in the audience.
Ella Forman danced the part of Giselle with delicacy and flair but she also brought strong acting ability to the role. The section where the distraught
Giselle discovers Albrecht's deceit was very moving and the death scene, with the cast gathered around the young girl's body, was so gripping you could've heard a pin drop in the auditorium.
As Albrecht, professional dancer Joe Bishop, who trained with HBA as a youngster, gave a dynamic performance, owning the stage with his agility and power. But he never allowed his skill to overshadow the production, complementing and never dominating the rest of the cast.
The wraith-like Wilis, the spirits of young women who died of broken hearts, were a fascinatingly ethereal presence on stage. Clad in white dresses and veils, they swept the stage in a succession of dramatic patterns. After dancing to death Giselle's jilted boyfriend, the unfortunate Hilarion (Stefan Donovan), they closed in on Albrecht, determined he should suffer the same fate. But Giselle, having found forgiveness in her heart, begs Myrthe, the Queen of the Wilis (a strong and imposing Millie Ashdown) to spare his life.
Giselle pleads in vain to the unforgiving Myrthe and Albrecht is forced to dance until daybreak. But as the sun rises and the Wilis return to their graves, she has broken through the hatred and vengeance that control the spirits and is released from their powers. After bidding farewell to Albrecht, Giselle returns to her grave to rest in peace.
This was a fascinating and thoroughly absorbing production which showcased Harlow Ballet Association's ever-growing range of talent and skills.
Bridget McAlpine

Popularity: 1% [?]