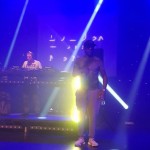 A NIGHT of UK Garage at the Harlow Playhouse was always going to be a rocks for such a new departure for the venue.
But our reporter centred out on Friday night and can report that it was a resounding success.
The packed out venue paid host to top quality acts such as DJ Luck and MC Neat. Sweet Female Attitude was also very impressive.
You did wonder if an all seater venue was the right place and it was fine. People just got out of their seats and danced. There is a little bit of space on the wings as well.
Credit must go to the Playhouse staff who just let the event breathe.
UK Garage covers a broad church and so to the uninitiated we have linked a couple of songs below.
To reflect it's diversity, the audience had quite an age range.
At the end of the two hour concert, there was an "impromptu" Garage session in the bar area. This was sensational!
Harlow Playhouse plan to have another event in April. This reviewer cannot wait.
Review courtesy of DJ Grace, MC Clare (with special guest Lauren).
Popularity: 1% [?]