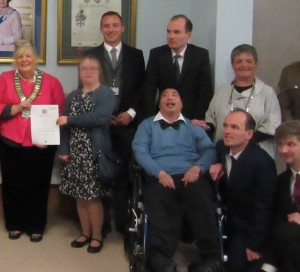 Prestigious award for Razed Roof

VOLUNTEERS and supporters of Harlow's Inclusive Performing Arts company, Razed Roof, have received the prestigious Queen's Award for Voluntary Services, at a ceremony held in Harlow Civic Centre, on Tuesday, 31 October.
Known as the 'MBE for volunteers', the award recognises the hard work of all those involved in enabling communities to flourish.
Razed Roof, based at Harlow Playhouse, brings together adults with learning difficulties and disabilities (core Razed Roofers) with 'A' Level students from the Robert Barclay Academy in Hoddesdon. Together, they develop pieces of performance work and provide a variety of workshops for others in the wider community.
Razed Roof volunteers support the extensive work of the company in a variety of ways, including: supporting participants during weekly sessions; fundraising; making costumes and props; technical support; assisting with research for projects; providing transport for company members; taking on the role of trustees; participating in workshops for special schools and universities, and offering training courses for social care professionals. Volunteering for the company brings so many people together, sharing their time and valuable skills.
Over 100 people attended the presentation held in Harlow's Council Chamber. Cllr Sue Livings, Chair of Harlow Council, welcomed the Lord Lieutenant of Essex, Mrs Jennifer Tolhurst who was representing HM Queen Elizabeth.
Also present were Deputy Lieutenants Mrs Julia Abel-Smith and Mr Charles Clark, accompanied by Caroline Taylor, the CEO of Essex Community Foundation. Two cadets were also present.
Razed Roof's Artistic Director, Annette Lidster, talked about the history of the company and how it has developed over the past 25 years, and of the crucial role volunteers have played in its growth and development. Volunteers and company members also spoke of their involvement and how it has impacted positively on their lives.
Volunteer Steph Wright, who worked with the company for a number of years, said: "Volunteering at Razed roof opened my eyes to a whole new brilliant world of inclusive theatre.
"Being able to support the core group of wonderful actors each week was amazing. Everyone works together to create unique, stylised pieces of drama which make up the annual shows everyone looks forward to.
"Before I got the opportunity to work with Razed Roof, I wasn't aware of the inclusive side of performing arts so having the opportunity to be involved in theatre with so many fresh ideas and talent was even more inspiring.
"One of my favourite parts of working with the group was touring our shows in different locations and performing workshops to different schools. This gave us the opportunity to show others what we do as a group and for students and adults to be part of it.
"I have made so many friendships and memories that will stay with me forever and feel privileged to have been a part of the best theatre group there is."
The Lord Lieutenant shared her thoughts about the work of Razed Roof volunteers and emphasised the example they are setting for others in the community. The Deputy Lieutenant read the official citation from Her Majesty the Queen.
The Lord Lieutenant presented The Crystal Award and the Citation to Tony Edwards (Chair of Trustees), Barbara Lazarus (Chair of Fundraising Committee and session supporter), and Aaron Staines (Company member volunteer), who proudly received them on behalf of all Razed Roof volunteers.
The celebration concluded with the sharing of an impressive 'right royal' cake, baked by volunteer Jane Martin, and a toast to the company, volunteers and the community! The Deputy Lieutenant described the presentation evening as "a triumph".
The last word must go to core Razed Roof member Clifford Ellis, who summed it up for us all, saying: "I feel so proud."

Popularity: 1% [?]