FRIDAY marked a very busy evening for staff and pupils at St Mark's, where a sold out crowd watched a fantastic 13 finalists take the stage.
The whole process started in September, where 35 acts, ranging from singers to dancers, got two minutes to prove to the judges that they have what it takes to win St Mark's Got Talent!
The finalists worked tirelessly to make sure their performance was perfect, and we were not disappointed! There was a buzz of excitement in the audience, as the acts performed, some even bringing a tear to the judges' eyes.
The judges: Mr McCarthy, Mr Whelan, Mr Rowley and Miss Webster were overwhelmed with the talent that took to the stage.
Congratulations to Mackenzie Sarkies for her winning performance, 'I Can't Make a Mistake' and runners up: Shalom Chizanga, who sang 'Rise Up' to secure 2nd place, and the Afro Queens (Jerodine Boamah, Mya Charles, Susan Ngobili, Lanelle Amissah, Kitan Oluwole, Estelle Kyei-Mensah , Ellisa Appleton, Joesabella Agyemang-Darkwa, and Benedicta Okubire) who danced their way into 3rd place.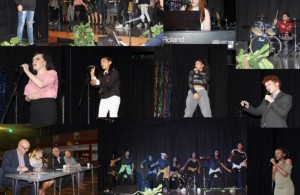 Popularity: 1% [?]