Highway Schemes and Developments
Major SchemesA414 Edinburgh Way/Cambridge Road

A414 Edinburgh Way/Cambridge Road junction improvement scheme
Advance information – February overnight road closures, A414 Edinburgh Way
This scheme is now entering its construction phase. A series of overnight road closures are planned to support works to remove central islands, white lining and install new traffic management as follows:
Monday 12 February to Saturday 17 February, 8pm to 6am (reopening Sunday)
A414 Edinburgh Way will be closed from Cambridge Road (Harlow Mill) roundabout to River Way roundabout.
Access to East Road will be via Central Road and South Road during the closure as no access will be possible via A414 Edinburgh Way.
Roads served only by the closed section of Edinburgh Way (such as Temple Fields) will have restricted access.
Appropriate traffic management, advance warning signs and diversion routes will be put into place (refer to document section below).
We encourage all motorists to allow extra time, plan journeys during these works and take additional care when passing through the area.
Please note that dates may be subject to change if affected by poor weather or if unexpected issues arise.
The latest updates will be updated to this webpage as well local signage and the @essexhighways twitter feed.
About the scheme:
Essex County Council is developing a series of improvements in Harlow and funding has been secured to improve the A414 Edinburgh Way/Cambridge Road Roundabout.
Main works include:
Dual carriageway for Edinburgh Way between Cambridge Road and River Way Roundabouts.
Upgrade of the A414 Cambridge Road Roundabout including a dedicated left turn lane from the south to the west along the A414.
Improve traffic signals at the East Road junction with Edinburgh Way, maintaining a crossing point on the A414 for pedestrians and cyclists.
With the exception of East Road, vehicles that access premises on Edinburgh Way will be prohibited from turning right due to the new central reservation. Vehicles at the East Road junction will be able to turn in both directions at the traffic signals.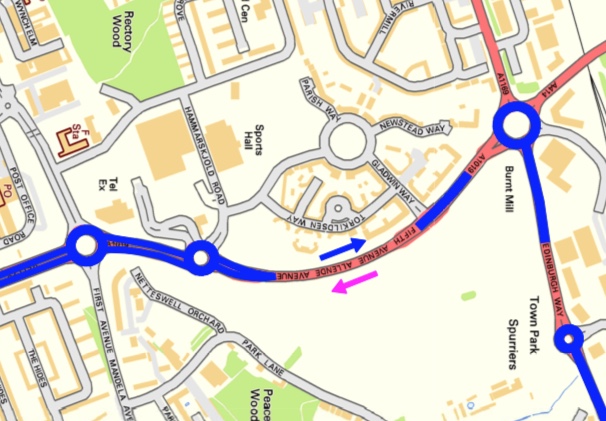 Popularity: 2% [?]