ON Saturday, our attention was drawn to the plight of Mr John Jones, aged 63, who was living on a small patch of land at the junction of Commonside Road and Fern Hill Lane.
A petition had been started claiming that Harlow Council had removed his caravan. By Sunday afternoon, the petition had been signed by 8,500 people.
Ukip councillor, Dan Long had contacted us, slamming Harlow Council's Labour administration. We had letters to the editor, slamming Harlow Council.
Social media was on fire with concerns regarding the situation.
On Saturday night, Harlow Council went on the record to inform people that they had not removed the caravan. His caravan was on Essex County Council land.
So, on Sunday lunchtime, we decided to embark on good old fashioned journalism and go to Fern Hill Lane and see if we could find out more.
When we arrived at Fern Hill Lane, one of the first things we noticed was a number of lamp posts had official documents posted on them.
The documents told us that the land was owned by Essex County Council.
The document summoned owner of vehicles on said land to Chelmsford magistrates court on Thursday February 8th.
The document indicated that encamping in said vehicle on said land was an offence ands quoted relevant statute.
We sat down around the campfire and spoke to Mr Jones. At this point he preferred to not go on the record and so we respect and respected his privacy.
He has two tents, a fire and fresh clothing (it was delivered to him whilst we were speaking).
He also has many well-wishers.
John is off down to the council offices on Monday morning and he will continue the story then.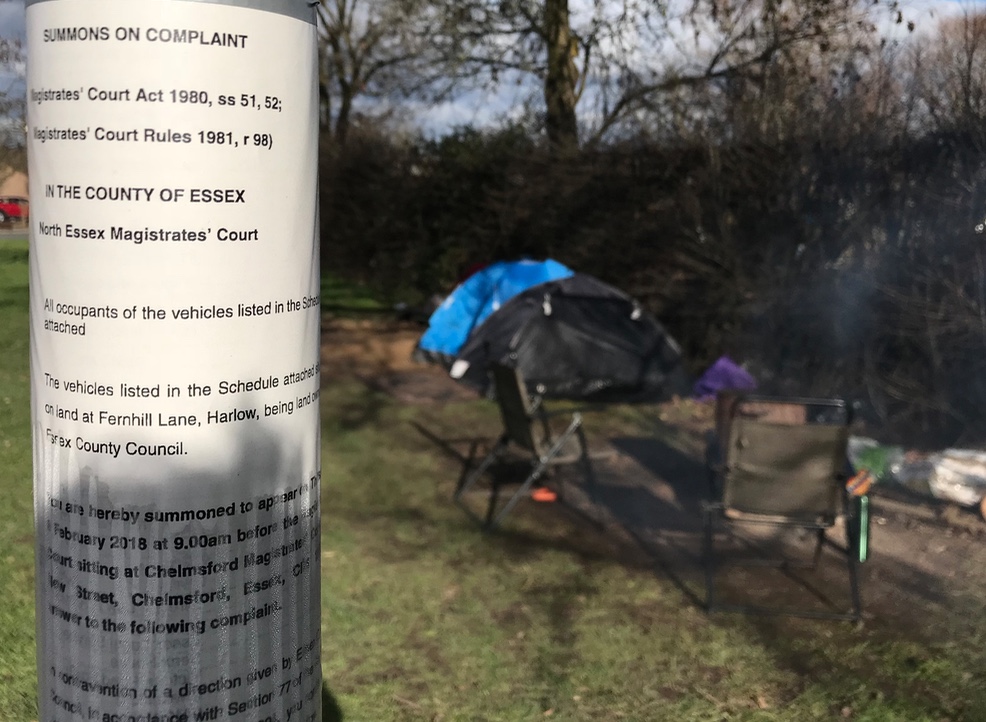 Popularity: 3% [?]