A Christmas Carol
The Victoria Hall Theatre
December 9th, 2018
WHEN you take on a classic, you take on a great challenge. Apart from the fact that it is a classic , it is the challenge of presenting it to a young audience in 2018.
From the moment you are welcomed into the theatre by a young actor in Victorian costume to when you depart, you are totally absorbed in a Dickensian world and that is only achieved by having outstanding production values. With that in mind, praise must be given to each and every one who contributed to this production. A specula mention to Kelly Cummings who was in charge of costumes and was also the Production Manager.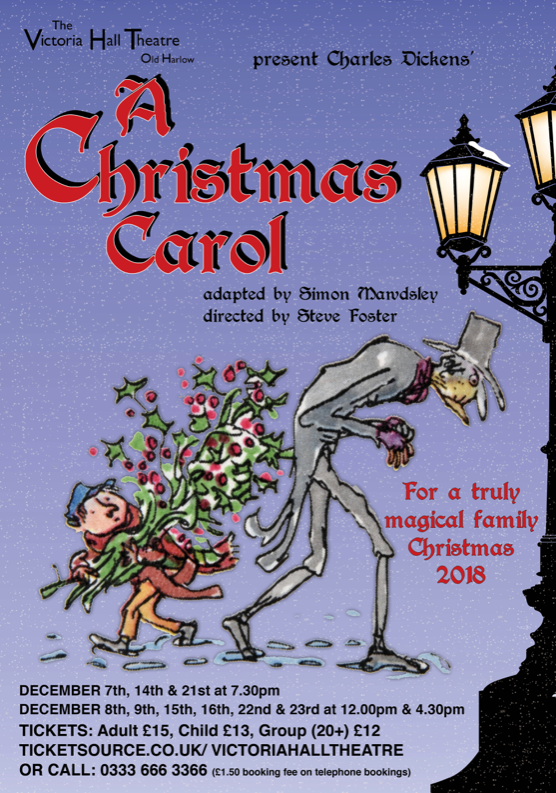 Simon Mawdsley is an excellent Ebeneezer Scrooge. In some ways he is a mixture between Rigby from Rising Damp and Albert Steptoe (youtube them kids) but that does give him a modern feel. This was quite a tour de force by Simon who in on stage, more or less, throughout but is more than just a fulcrum. It is a star performance but he is also a key part of a large ensemble.
The set in what is a pretty confined space is impressive. The fact that it is quite claustrophobic gives it added tension. Having said that, this is not a morose or morbid Christmas Carol. Infact, it really is a simple take of "It is nice to be nice".
Every actor fully fleshes out their performances. There are so many to credit but Alfi Howard and Norbert, sorry Herbert, Ellie Darby-Prangnell as the Ghost of Christmas Past, Becky Vincent as Mrs Haversack and Leo Appleton as the Ghost of Christmas Present were all outstanding.
We were all impressed by Bob Cratchit, played by Kevin Smith, who played the part very sympathetically.
Let is also praise the whole of the Junior Cast who were word perfect and did not put a foot out of place and that was not easy when you have eight children sitting down eating….Rook…
Each ghost was a portrayed in a terrific way. Past and present were comedic, future, terrifying but all got the point across.
Yes, it all ends well but even though some of us have seen the story a million times before, the quality of the action and the production makes you clap and cheer with relief and happiness.
You have to praise the spirit of this performance. The Victoria Hall has always been host to community based theatre and this production really captured that spirit.
Thank you for your invitation and we wish you all a happy Christmas.

Popularity: 1% [?]