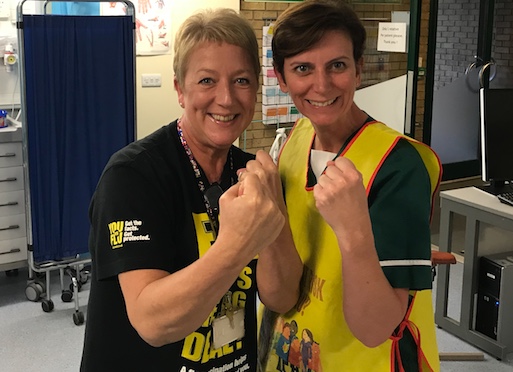 Hospital's flu fight is 'up for jabs'
AS the national flu campaign intensifies, with a 'jabathon' running this week to get NHS workers vaccinated, The Princess Alexandra Hospital Trust (PAHT) is stepping up its own campaign – and urging Harlow residents to get ready for winter.
As an emergency nurse at Princess Alexandra Hospital in Harlow, Sarah Lewis deals with urgent cases every day. She knows only too well how important it is that people avoid the risk of flu. Flu immunisation is one of the most effective interventions to prevent both the risk of death and serious illness from flu, and Sarah has been at the forefront of promoting vaccination among healthcare colleagues.
Sarah has been an ardent flu champion at the trust for the past two years. As a strong advocate of everyone directly involved in caring for patients having the flu vaccine, she has taken up the role to support people within the trust in accessing the flu vaccination.
She is one of a growing band of flu fighters at the hospital. Each year, PAHT aims to vaccinate up to 75 per cent of its front line staff. In order to achieve this, flu vaccinations are offered to all staff. Sarah uses all her creativity to get the message across, including making up rhymes or catchphrase to attract attention, like 'roll up your sleeves to prevent disease'.
Sarah said: "I use social media to promote the flu campaign, regularly tweet with updates, and Facebook my friends and colleagues with dates and times for flu jabs in the workplace.
"I also promote the flu jab by wearing a special bright flu t-shirt; this helps prompt staff to have the vaccine."
The NHS is committed to raising the uptake of the flu vaccination and is urging the population to be immunised against the virus. It is important that eligible people receive their free vaccinations from their local GP in the first instance.
In healthy people, flu will usually clear up on its own within a week. However, flu can be more severe in certain people, such as:
• anyone aged 65 and over
• pregnant women
• children and adults with an underlying health condition (particularly long-term heart or respiratory disease)
• children and adults with weakened immune systems
The trust is emphasising that staff can protect themselves against the health risks that winter brings by having the flu vaccination, and is keen to dispel myths surrounding the vaccine – for instance, the idea that the flu jab gives you flu. The fact is that the flu jab cannot give you flu as it does not contain any live viruses.
Fighting flu also means making sure that their workforce, families and friends are protected. Since the trust's campaign started, staff have been lining up to get vaccinated, with executive members leading the way. Chief Executive, Lance McCarthy, was among the first to get the jab.
For more information about flu immunisation, visit the NHS Choices website.