Weekend Round Up 17th August
HARLOW Cricket Club First XI saw their season torpedoed by a 17-year-old fast medium seamer named Haris Latif on Saturday. In the space of incredible two hours of cricket, a to date successful campaign for promotion, was left floundering as a defeat of staggering magnitude left the Marigolds side with no margin for error whatsoever in the remaining three Shepherd Neame League fixtures.
In truth, the first stages of the capitulation came in the Walthamstow innings when having been completely becalmed by accurate Harlow bowling and the scoreboard only registering 98 runs in the first 38 overs, the visitors somehow went from being stuck in first gear straight into fifth, adding a destructive 112 runs in the final 12 overs. Even at this point 210 seemed below par and virtually everyone in attendance was predicting a relatively comfortable run chase. Sadly, the home innings was a slow-motion car crash, ending with a season low 96 all out.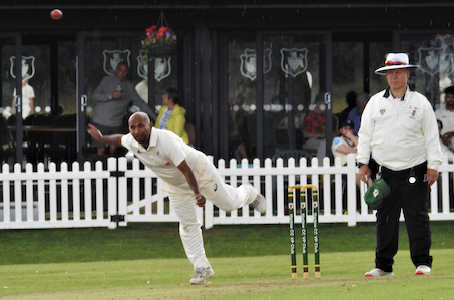 Elsewhere, the two other promotion contenders at the club, the 2nd and 4th XI's both won to boost their own prospects whilst the 3rd XI lost an extremely tight game and the 5th XI had their fixture washed out.
First XI
To Marigolds then, and Saturday morning witnessed the value of the new mobile covers at the club, as despite significant overnight rain, Cliff Clarke was able to prepare an excellent hard even paced track for the home side and visitors Walthamstow to do battle on. In the league game earlier this season, Harlow had completely demolished the opposition making almost 300 batting first and dismissing the East Londoners for 68. No one would have predicted what was to follow.
At last captain, Ryan Jessey, won a toss and put the opposition into bat. The opening overs failed to realise a wicket but with the rate of scoring so ponderous, at around two and a half an over, there was little concern in the home ranks. Waheed Azam had the initial break through with the score on 45 and Mitch Howarde and Sarfraz Ahmed both struck shortly after, one aided by a superb grab by Ryan Jessey after brother Lee had parried a catch at second slip, leaving the visitors on 69-3 off 29 overs. Such was the level of complete control, it seemed that three dropped catches – all on opener Richard Braughen – were just a minor irritation. A further ten overs elapsed of numerous defensive shots and play and misses as Braughen and new partner Nick Porter frankly looked all at sea as they crawled to 98-3. Suddenly, in an instant, the attitude and style of batting altered completely as the Walthamstow batters started launching the ball to all parts. Whatever Ryan Jessey tried in terms of rotating his bowlers made no difference whatsoever as they all were dispatched to the boundary on a regular basis. Braughan was unfortunate to miss out on a century, when run out on 97 by a fine throw from the deep by Ben Yeats, and then Porter followed for 41 in the same fashion as Howarde reacted quickest after the ball cannoned off the stumps at the non-striker's end. There was still time for Tanveer to blast 34 from 17 deliveries as a potential score of around 150 was supersized to 210-5 by the late hitting.
Sarfraz Ahmed 1-25 (8 overs), Waheed Azam 1-43 (9 overs), Mitch Howarde 1-56 (13 overs), Luke Monger 0-34 (12 overs) and Jason McNally 0-46 (8 overs)
Despite the turnaround in the latter stages of the innings tea saw a very confident Harlow side prepare for the forthcoming run chase. That belief was to start to evaporate from the second ball as Haris Latif, bowling fast medium seamers on a full length, knocked over the opening Harlow batsmen and from that moment carnage ensued. Nought for one swiftly became 11-2 before the only partnership of any note between Jason McNally and Rehman Ahmed took the score to 42-3. In one devastating over Latif destroyed the Harlow batting producing a triple wicket maiden as he removed McNally, Jones and Monger all to full deliveries that just nibbled a fraction off the wicket. The horror continued when part time leg spinner, Nick Porter, had Rehman caught on the boundary for 16 off a horrible waist high full toss. Skipper Jessey added 20 but wickets continued to fall and it was inevitable that Latif took the final two as Harlow abjectly were dismissed for 96. Latif ended with figures of 7-18 in 8 overs with six batsmen bowled and the other LBW.
On paper this game had appeared a mismatch, and it was, just not in the way one might have expected. Out batted, out bowled and out fielded this was a chastening day for the First XI. Promotion rivals Leigh on Sea and Westcliff both recorded hugely comfortable wins and so for the first time in months the baggy greens drop out of the promotion places to third in the table and with fixtures against both those sides remaining Harlow have an incredibly tough run in. In all likelihood, all three matches will now have to be won and in the timed format that will be extremely challenging.
As people drifted away from the club on Saturday with the late summer sun dropping low over Marigolds there was a collective sense of disbelief at what had occurred and everyone will need to banish this performance from the collective mindset and go hard again next week at champions elect Leigh on Sea. This is still achievable with the talent at the club but if it's going to happen it'll have to be the hard way now.
Second XI
Rob Coldwell's side were coming off their own blow to the solar plexus having lost unexpectedly the previous week. A trip to lowly West Essex was just the tonic his side needed. The home side won the toss and decided to bat and actually made a good start with both openers seeing off the early bowling in making 28 apiece before falling to Lewis Aldred and Jake Messenger respectively. Max Baulcomb ran out their number 3 batter before Jake Messenger tore through the West Essex line up taking his second five wicket haul of the season. Aldred collected a second wicket at the other end and Amir Farooq and Sunni Ali both grabbed the remaining wickets as the home side were comprehensively dismissed for 132 in only 36 overs.
Jake Messenger 5-34 (10.1 overs), Amir Farooq 2-10 (2 overs), Lewis Aldred 2-28 (10 overs), Callum Sykes 0-20 (8 overs) and Matt Hart 0-22 (6 overs)
In reply, Harlow overcame an early wobble as three quick wickets fell including the prolific Syed Hassan for 16 and John Perry for 10. Max Baulcomb, however, dominated the innings with a superb 71 not out as he brought the side home for a comfortable win by 6 wickets with 20 overs to spare.
Unfortunately, with match points being weighted towards teams batting first in the current Timed format Harlow actually dropped a place to third and currently sit 2 points outside of a promotion slot as all the top sides in this division recorded victories. Next week however, sees Rob's side play host to the very team sitting just above them in what is sure to be an absolute belter of a game on Marigolds.
Third XI
The 3rd XI were involved in a tremendous game at Loughton. The home side were inserted by Harlow and made a very handy 249-7 in their 50 overs. In a cliff hanger of a game Harlow replied with an excellent 239 all out, just falling short with 2 overs remaining.
Having won the toss Faisal Javed, the 3rd's skipper, asked Loughton to bat first and then had to watch as the home side made a tremendous start with opener Jeevan Nijjar making 92 with other good contributions down the order as Harlow struggled to stem the flow of runs. Muhammed Faisal claimed a brace of wickets along with Dan Stone but a total of 249-8 looked a stiff task.
Muhammed Faisal 2-34 (8 overs), Dan Stone 2-54 (13 overs), Dave Whelhams 1-32 (6 overs), Abdullah Farooq 1-33 (6 overs), Faisal Javed 1-40 (6 overs), Tyler Dobson 0-25 (7 overs) and Daniel Whelhams 0-27 (4 overs).
Harlow's reply suffered an early blow when the captain was dismissed cheaply followed by Harry Burton (18) and Asad Baig (8). Whilst opener, Atif Mustehsan, was at the crease however there was hope and he received ongoing support from Simon Baulcomb (17), Abdullah Farooq who made an excellent 41 and Muhammed Faisal (34). Sadly, Atif was caught and bowled on 88 and the tail enders were unable to get the side over the line for the win. A gallant effort all round though just ending in a 10-run defeat.
Fourth XI
On Spicers, Rizwan's 4th XI were navigating their own promotion waters against Stanford le Hope. Having won the toss Rizwan made the sensible option of allowing the visitors first use a green wicket and his bowlers did not let him down. Everyone bowled with excellent discipline and control ensuring pressure was maintained on a fragile batting line up, that almost singlehandedly was indebted to opener Daniel Copp who made 45 out of a total of 97 all out. Mustafa Zaman led the way with superb figures of 5-18 but he was well backed up by some good catching and fielding.
Mustafa Zaman 5-18 (11.4 overs), Omar Qureshi 2-26 (8 overs), Irfan Shouket 1-16 (4 overs), Syed Ali 1-21 (5 overs) and Myles Baldock 0-11 (6 overs)
A clatter of three early wickets had excited shouts from the visitors ringing around Spicers but the ever-reliable skipper calmed nerves with an unbeaten 42 gaining support from Nathan McCarthy (23) and Rhys Galvin (14 not out) as a winning margin of 6 wickets was achieved in only the 25th over allowing plenty of time for the guys to prepare their 4th XI hosting night. Good work all round.
Harlow retain their position in second place but have increased their gap on third place Walthamstow yet further to a huge 36 points. Two more victories in the last three games and Rizwan and his tremendous side will have secured a fabulous promotion already playing in a 3rd XI league as it is.
Fifth XI
Sadly, no game for the young 5's as their game succumbed to the overnight rain although it was heartening to see some of the Colts from that side use the time to get in the nets at Marigolds during Saturday afternoon.