TRIBUTES have been paid following the death of long-term Irish Post photographer and popular Longford man Mel McNally.
The 88-year-old, who hailed from Longford Town, passed away at a nursing home near his Harlow home on Sunday, November 3rd.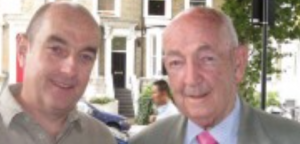 Mel came to Britain in the 1950s to find work after working at the Midlands Photographic Company in his hometown for five years.
Mel was a very popular member of the Harlow community and until recently could be seen walking near his home in Potter Street.
Editor of YourHarlow, Michael Casey said: "It is sad that another of the great generation of Irishmen who made their home in Harlow has gone.
Mel left a rich legacy. He was a friend of my father, Kevin. When I was growing up (in the seventies), I remember Mel doing his utmost to raise the profile of Harlow people in The Irish Post.
"Mel used to come down to Harlow Athletic Cub meetings at the Sportscentre and photograph the Harlow Irish athletes. He made us all feel very special and proud.
"My thoughts are with the McNally family.
Many have left tributes on a Facebook page called Harlow Irish.
A full tribute is in The Irish Post below.
https://www.irishpost.com/news/tributes-paid-following-death-living-legend-photographer-mel-mcnally-173440