2019 Welsh Open Cadets Championships – Sport Wales National Centre, Cardiff
OWEN Lambert (14) from Harlow Judo Club, made the long journey to Cardiff to represent the Club in the Welsh Open Cadets Championships. The event was spread over 2 days and 4 mats, with Cadet Boys and Pre-cadet Girls on the first day followed by Cadet Girls and Pre-cadet Boys on the second.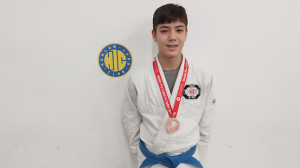 Owen competed in his weight group in the Cadet Boys section, (players born in the years 2003 -2005) fighting boys up to the age of 16. After weighing in early in the morning, he didn't have long to wait before stepping onto the mat for his first fight. He won his first 2 rounds with ease displaying fantastic techniques and was soon into the semi-final round. With a good start from Owen, despite throwing his opponent for a potential waza-ari, this was not scored by the referee nor the table officials, therefore it was all still to play for. Owen battled hard with his older opponent and scored first with a waza-ari. Shortly afterwards, another good attack from Owen, but this was countered by his opponent and as Owen tried to step off, he unfortunately got caught with a strangle from the 2nd year Cadet player and lost this round. With Gold or Silver medals out of reach, Owen recomposed himself to fight for one of the 2 Bronze medals. He fought his last round of the day assertively and convincingly, making no errors, to take the Bronze medal.
Club Coach Nigel, accompanied Owen to the competition and said that his player listened very well to instructions and was very impressed with his performance and the matureness in his Judo today. Pointing out that Owen had only just gone up to the Cadets section, he appeared to embrace the transition and gave the 2nd and 3rd year Cadets in his weight group, a good run for their money.
Harlow Judo Club are always on the lookout for sponsorship to help fund players in events all around the country at various levels. If you can assist, please contact Gill Ellis on [email protected] or 07976 955905. The Club also caters for those with special needs – please contact the Club for more details. They are based in Foldcroft, Harlow, CM20 1SE. For training times, please visit www.harlowjudoclub.com

Popularity: 1% [?]