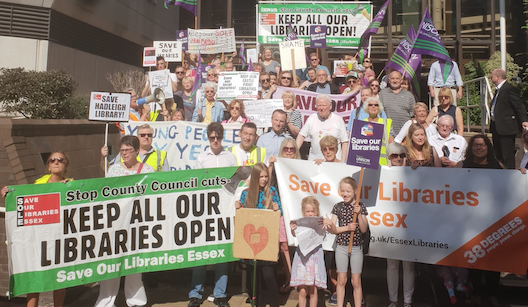 By the Save Our Libraries Essex Campaign
Harlow's libraries are still not safe – what will our prospective parliamentary candidates do?
A YEAR ago, Essex SOLE (Save Our Libraries Essex) was formed in response to Essex County Council's proposals to close many of the libraries across the county.
Harlow was initially at risk of losing three out of five libraries, at The Stow, Bush Fair and Staple Tye. Local groups of campaigners held public meetings, set up stalls outside the libraries to alert the public to the plans, and marched in towns and villages across the county, in addition to a large central demonstration of approximately one thousand people in Chelmsford ending on the steps of County Hall where the crowd was addressed by authors, retired librarians, politicians of different hues and by local school children. 


When Essex announced that no library would close for five years, many people thought the fight was over. But, it soon became clear that new plans were on the table to hand over libraries to volunteer groups. It transpired that, even during the consultation period, councillors had been negotiating, behind closed doors, with local groups to take over responsibility for libraries. Now it's not just three libraries we're at risk of losing in Harlow, but all five, including Old Harlow and the town centre – the plan for volunteer libraries could impact them all.
Essex County Council is now pressing ahead with these plans, holding 'secret' meetings last week at libraries in Pitsea (Basildon), at Greenstead library (Colchester), in Ongar and at Great Baddow library on the outskirts of Chelmsford.
More meetings are planned in other libraries in the New Year. 


SOLE has called these plans 'closure by stealth' as volunteers would be given only £18,000 for the first three years (with nothing after that) and would have to find their own premises. One councillor has even suggested that a 'community library' could be run from inside a pub!
What do our prospective parliamentary candidates think?
Save Our Libraries Essex is a non-party political campaign and welcomes support from election candidates.
In the run up to the election, Harlow SOLE invited the three local general election candidates Robert Halfon (Conservative), Laura McAlpine (Labour) and Charlotte Cane (Liberal Democrats) to answer two questions.
Our letter to candidates set out the SOLE principles that libraries should remain open with no reduction in paid and professional on-site staff, with computers for public use in addition to books and other stock supplied in the same way and to the same extent as they have been and our first question was:
1. Do you agree with the principles set out above?
Our second question related to our views on Essex County Council plans to hand over libraries to volunteers and the fact that we are asking groups who have expressed an interest in doing so to withdraw those 'expressions of interest'.
2. Do you agree with our view on the withdrawal on the expressions of interest.
Laura McAlpine (Labour candidate) said: "I have been a supporter of SOLE since its formation last year. I am fully supportive of the policy adopted by SOLE and agree that it is vital we demand a future-proof funding model in which the County Council fully meet their statutory obligations through direct funding of a fit for purpose service. Essex County Council should not be permitted to cost shift any element of the service which they are required to provide by the Public Libraries and Museums Act 1964 to any third party, volunteer or otherwise. 
I would be prepared to further support any initiative developed by SOLE, to require central government to specifically provide ring fenced funding to all councils so that we can ensure that the vital services provided by public libraries continues without risk of  future funding threats. 
In answer to your second question, I would encourage any group, however well meaning and public minded, to withdraw their expressions of interest. When we have won this particular fight, there may then  be a space for some community volunteer involvement, under the direction of qualified, professional staff, but I can only repeat that it is my firm belief that a fully funded, state administered service is vital today, and into the future."
Robert Halfon (Conservative) issued a general comment. He said:: "Simply owing to time constraints, I don't carry out any surveys during the election campaign."
"I fought hard to ensure that our libraries in Harlow were kept open and worked closely with Harlow and Essex Councils. If re-elected, I will continue to work hard with local councillors to ensure we have good quality libraries fit for the 21st century."
Charlotte Cane (Lib Dem) said: "I think libraries are magical places. They can help people of all ages and backgrounds develop a love of reading.
A good library needs librarians who know how to help people find the books they will enjoy, which books to order and how to display them. They know how to support people to use the computers and find the resources which they need. It's great if people want to volunteer in their local library, but we need professional librarians to make sure that the libraries thrive. I'm afraid that keeping the buildings open but removing the professional staff will lead to the slow death of the libraries.
In answer to your specific questions:
Yes – I agree that the libraries should remain open with professional staff, computers and a budget which allows them to keep a good stock of books and other materials.
Yes – I agree that, whilst well-intentioned, volunteering to run a local library will allow the County Council to continue to drain the libraries of resources and will lead to their eventual closure.