AS is our tradition, both in local and national elections, we like to have a go at predicting the outcome of the result in Harlow.
Firstly, we must pay tribute to the three candidates who have stood in the first place. It takes a huge amount of dedication, stamina and the development of a tough skin to run for elected office. Even more so in these days of social media.
As you may well know, Harlow is or was the classic swing seat. In 1997, Labour had a 10,000 majority. In 2015, Robert Halfon had a 8,000 majority. It is not that the voters of Harlow are fickle, it may well be that they are the true spirit of the rational choice model. They tend to buy into a candidate, both locally and nationally.
In an interview with YH in 2017, Conservative MP for Harlow, Jerry Hayes, admitted that "his victory in '83 was more to do with Margaret Thatcher and his defeat in '97 was the coming of Tony Blair".
Jerry Hayes won it three times, Bill Rammell won it three times. Can Robert Halfon win it fr the fourth time in four years?
So what of the three candidates?
Robert Halfon
Mr Halfon is defending a majority of 7,031. In 2017, he gained 54% of the vote. A percentage only matched by Labour's Bill Rammell in 1997.
For the past six weeks, Mr Halfon has been repeating the mantra of "Get Brexit Done". Whether in person, on the side of the A414 or in his van he believes this is the way to go.
You tend to forget that he has campaigned in Harlow for close to twenty years. You now get the feeling that he is more popular than ever. The people that approach him up town, the drivers that toot their horn in approval on the A414, the groups that he has invited up to the House of Commons and then sung his praises as a constituency MP.
Many people in Harlow believes he goes to Westminster to bat for them. Whether it is a new hospital or an individual case, there appears to be a close relationship between Robert Halfon and the voter. Most of those people are not on here, they are the people of Harlow who go about their business from day to day.
If he does win, it will be interesting to see how he takes on the next five years. Getting Brexit Done may well take years and there is a real concern over No Deal. Locally, we will also be interested to see what the "new hospital" for Harlow really looks like. Will he get his education committee back or will it be five years in back bench wilderness?
For the first time as well, we might also wonder, how many more General Elections, may Mr Halfon choose to fight?
Laura McAlpine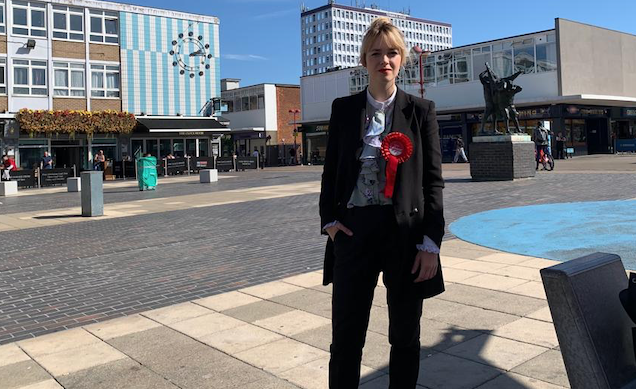 Whatever happens, we think that first timer, Laura McAlpine, can look back on her campaign with a great deal of pride. It has been a very attractive campaign with great slogans and branding. Ms McAlpine and her team have worked really hard, both on and off line.
They have concentrated on those local issues such as education and health that impact upon Harlow residents lives.
In many ways, it is an unfair fight. Ms McAlpine is fighting her first election, has no experience of elected office against an opponent who is deeply embedded in the town's psyche.
What Ms McAlpine thinks is her greatest asset, may well be her greatest burden, i.e: Jeremy Corbyn. The Harlow Labour campaign is being firmly fought from the far left. It looks uncannily similar to the 1983 campaign and we all know what happened there.
Is she tainted by the antisemitism controversy? Probably not when it comes to the local electorate but trying to get a second shot at Harlow may be a challenge. It may well be interesting to see if the professional actress disappears as quickly stage right as she entered stage left.
Charlotte Cane
Fighting a constituency you are not familiar with is not easy but we happen to think East Cambridgeshire councillor, Charlotte Cane has equipped herself very well.She more than held her own at the Question Time and in many ways reminded people that her party is steeped in liberal radicalism.
As in the national campaign, she was not helped by the Brexit Party candidate withdrawing and Jo Swinson's shrill campaign but Charlotte Cane has ploughed on and we hope that she may energise the local Lib Dems to wake up for their decade long slumber.
Prediction.
Turnout will be key and the weather forecast for Harlow looks rough. There may be many who do not turn up to vote due to the weather or because they are fed up with politics. If that happens, it could put a spanner in the works.
We think Mr Halfon will be returned with an increased share of the vote, possibly over 60%. We think Ms McAlpine may struggle to get to 30% (Labour got 30% in 2015 and 38% in 2017).
We wish them all the best.
PS. If you think our prediction is wrong then tell us what you think the percentages will be please.