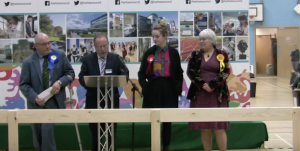 Editorial
AT 2am on Friday morning, it was announced that the Conservative Robert Halfon had won a historic fourth term as MP for Harlow and the villages. He had polled 27,510 votes. He also received a record share of the vote (63%), beating his share in 2017 (54%). The highest Labour share was by Bill Rammell in 1997 (54%).
Laura McAlpine's share of the vote was a 7% drop on Phil Waite's performance in 2017 but 1% better than Suzy Stride's 2015 performance. She got 173 more votes than Ms Stride.
There is no doubt that Ms McAlpine could not have done anymore. As we said in our prediction piece published on December 11th (where we predicted RH would get 61% btw), the campaign was bold, bright, with clear key messages. You also have to take into account, that this was a first timer, who had no experience of elected office.
The stats speak for themselves. Could anyone have done any better? Over on our sister paper, YourThurrock, the former leader of Thurrock Council, John Kent lost by over 11,000. Two years ago, he lost by 345.
The question may well be, whether Ms MacAlpine will and can run again.? What may be counting against her is her close affiliation with Jeremy Corbyn. That may be hard to walk away from. Having basically backed a loser, she may be seen as yesterday's women at the tender age of 34.
She has opened rallies in London for him and he launched his national campaign at the Harlow Hotel.
Unfortunately, soon after that, the national papers covered stories regarding comments made by a close adviser that led to internal investigations.
https://jewishnews.timesofisrael.com/labour-election-candidate-defended-jewish-final-solution-slur/
After that, not a single Labour MP visited Harlow.
For those reasons alone, she may well struggle (in Harlow) to be selected again.
But if she does plan to stand again and is selected then there are lots of things to do between now and 2024.
If Ms McAlpine is interested in Harlow politics beyond 2019, then she may do worse than turns up and watch Harlow Council meetings. We have been covering full council, cabinet, committee meeting since July 2013 and we have never seen her at a single one. This may be a good time to start.
There may also be a lot of internal fences to mend. It is great to have activists from Tottenham and Hackney but it was noticeable how low key if not invisible many Harlow members were.
Ms MacAlpine was the co-founder of Harlow Momentum however, from its very outset, it seemed to be marked by creating division. It is clear that the whole controversy regarding former leader, Jon Clempner, the resignations of cllrs Waida Forman and Ian Beckett have left their scars. Other current councillors also tell YH that they have been subjects of complaints. Others will say it was a focus for energy and organisation.
Overall, each and every member of Harlow Labour need to sit down and ask themselves how they are going to persuade the 27,510 residents who voted for Robert Halfon/Boris Johnson/Conservative to vote for them?
They could easily conclude, and history may prove then right that they were simply scuppered by Corbyn and Brexit. Next time, with these two issues removed, the campaign may be different.
But in Harlow, we believe, that talking about socialist societies and socialist utopias is not going to attract them. Stop talking about the working classes like they are some lost tribe. In short it is a very middle class/patrician, patronising way of talking down to Harlow residents.
If, a few days after defeat you are still talking about socialist revolution in Harlow then when it comes to clawing back the 14,068 majority that Robert Halfon has, then you may well be part off the problem and not part of the solution.
Very little in the campaign seemed to celebrate or champion aspiration. Many of the 27,510 live or want to improve their lot. Many aspire to earn over £80,000. A lot of these voters are those (or descendants) who voted Conservative in 1979,83,87,92 because they felt that the Tory message was in tune with their political philosophy.
Essex became famous for it. You need to tune into their hopes and aspirations not depress them to death. Yes, we know education cuts, waiting times at doctor's surgeries and crime figures are very important but you need to set out an aspirational vision that speaks to them.
There is so much of this campaign that reminds this reporter of 1983. I was at university and whilst our politics society played host to Tony Benn, Neil Kinnock, Roy Hattersley; whilst our student union would be discussing El Salvador and Poland, I would then return home for the summer and see thousands of Harlow residents benefiting from Right to Buy. They would put conservatories in the back, porches in the front and blue posters in the window.
It is for that reason that on August 20th, when Jeremy Corbyn visited Harlow, we asked him whether his planned manifesto was "Less more like 1945 and more like the longest suicide note in history of 1983"
If there is a saving grace that makes voting patterns different in 2019, as opposed to other years, it is that voters say they have "lent their vote to Boris Johnson" Nobody ever said that about Margaret Thatcher. We will see what Get Brexit Done looks like. This could be a very interesting five years.
In the meantime, Harlow Labour may want to move back to the centre. Less the legacy of Stan Newens and more the example set by Bill Rammell.
There is one heck of a challenge ahead. You may be looking at the General Election of 2029 before Labour has decent chance to winning Harlow.