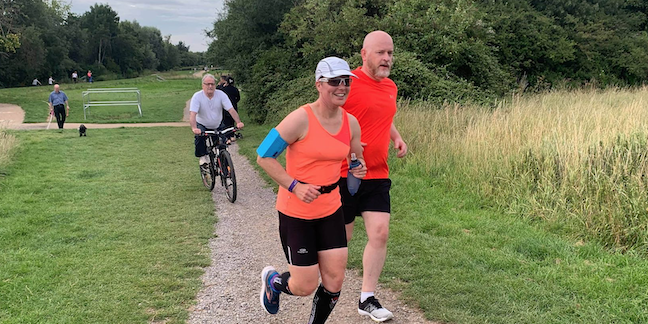 HARLOW athlete Anna Robey showed incredible determination to complete an Ironman on Sunday.
Originally, Anna had intended to compete in Nottingham but that was "Corona-cancelled" but that wasn't going to stop Anna.
Anna did the 2.4 mile swim at Redricks Lake; the 112 mile cycle on a loop going out to Ongar and then the 26.2 mile run around Harlow Common and Church Langley.
This would have been hard enough in a competition but even harder on your own.
Anna did have company with local cyclists and runners joining her however it was still Anna alone doing the whole event.
Anna completed the event in 15 hours, 51 minutes and 31 seconds.
Anna said: "Overall, it was a great day. I had lots of friendly, helpful and strong supporters who cheered, refilled bottles and swam, rode and ran many miles with me.
"My pace was slower than anticipated and the breaks longer, but I finished strongly so I'm very happy. I can now call myself an "Ironman".
Anna was doing the event to raise funds for the Essex Disability Foundation. You can still donate.
https://www.justgiving.com/fundraising/annarobey?fbclid=IwAR0wh-T6hoMqhFq4oucz0fCW_mTRGit1fVU-_iPZJl0pDzk89XMPaQxW3Dw
=================
Here is Anna's Race Report
Ironman Essex 2020 – "Race" Report
Well, for starters, it wasn't a race at all and that was fantastic for taking the pressure off and helping me to relax throughout the day. As the day went on, I cared less and less about my finish time and just wanted to complete the distance whilst enjoying the experience with my friends.
Swim– 2.4 miles, 6 laps of the top lake at Redricks Lakes, Sawbridgeworth
One of my favourite parts of the day. I had completed the distance about 6 times this year so I knew I could do the distance without any trouble and I just relaxed and enjoyed the freedom of the beautiful lake. My swim buddies were Darren, Kerry and Louise. Thank you Darren for the company for almost the entire way. It was reassuring to have you by my side. Exited the lake still feeling relaxed and nicely warmed up.
Swim Time – 1:22:42
Bike – 112 miles, 4 loops round Harlow and the villages
This was where the adventure really started, though the first lap passed without incidence. The pace was very steady, I was continually holding myself back and reminding myself that there was no such thing as going too easy at this stage. What an exercise in patience it was!
Second lap it got more interesting. We held a steady pace but the weather decided to rebel somewhat and the drizzle turned into a proper downpour as we approached Harlow. We were all soaked. This presented a real mental challenge for me. Having moved the event to Sunday because of Saturday's forecast rain, I felt it was a kick in the chin to get drenched on a day when rain wasn't forecast. 😤 I was concerned that if the bad weather kept up then the country roads would become risky on my tri bike, especially as the wind was due to get up to 15mph. As we pulled up at the house at the end of the lap I made the decision to change to my road bike to be safer and while I was at it I figured a full change of kit wouldn't hurt so I could be comfortable and dry. This wouldn't have been possible in an actual race so I considered it cheating, but as Event Director I let myself off!
Lap 3 got even more interesting. We had barely begun and Kerry got a puncture. We were on our own at that point so I stayed and helped her change the inner tube but we didn't do a great job! It wouldn't inflate but luckily Martin came by with his van and kit and helped Kerry out whilst I pushed on. This was my only solo part of the day and therefore felt quite lonely. That was until Helen and Grzes turned up in their car and followed me almost the entire loop! They rang a cow bell, played loud music and generally made me laugh so the time passed far more quickly. They helped me out massively, so thank you.
I was relieved to have Mike join me on the final lap. Kerry caught up and then went ahead as she had a little distance to catch up. What an amazingly strong lady she is, both physically and mentally. Everyone who knows her agrees on this point, she is the only person who ever doubts it! Anyway, Martin caught up with us later and I did a mixture of trying to hold steady and conserve my energy and also having a bit of fun on the downhills to keep my spirits up. Towards the end of the lap, Martin remarked that I was "nearly home". I replied that I'd never heard of the start of a marathon being referred to as "home" before! I had to think of my house as transition, not home, otherwise I'd have got into bed and refused to budge! Also, I nearly fell off my bike trying to get around the road works towards the end. My front wheel slipped off some rubber matting that was the pedestrian walkway and the bike went out from under me. Somehow my reflexes were quick enough that I managed to unclip my right foot and get it down so I just looked a bit daft rather than completely stacking it! Gah.
Thank you to my fellow riders: Kerry, Martin, Michael and Darren. And thank you for the support vehicle, Helen and Grzes.
Bike Time – 7:54:21
Run – 26.2 miles, 6.5 laps around Harlow Common and Church Langley
All Ironman athletes know that the run is where the "fun" starts. Anything that you've done wrong up to that point in terms of effort or nutrition comes to the surface once you're running and this was as true for me as anyone. I'm not sure if it was the intensity being too high on lap 3 of the bike so I didn't absorb my nutrition properly or whether I just hadn't practised quite enough with my nutrition but I got really bad abdominal pain and cramps during lap 1 of the run and they stayed with me until the end of lap 4. So I ran as much as I could of the first 13 miles but I kept being reduced to a walk because of the pain and I started to feel that it could be a really, really long night if I had to walk the second half. I stopped eating on the 3rd lap of the run because I felt it wasn't helping but by the end of the 4th lap I was getting tired and weak and knew I needed fuel.
We took a longer break after the 4th lap and I ate some ready salted crisps and drank half a bottle of flat coke. Amazingly, it did the trick. Not only did my energy come back but my abdominal discomfort decreased so much that I felt like a new runner! My positivity came back and I knew I could finish the distance.
We started with 3 laps off road round Harlow Common and were treated to cheering from a fantastic bunch of people that I have now called the "Common Crew". Thank you all for your support, it was really appreciated. As the light began to fade and I got tired of the uneven ground, we moved to laps of Church Langley. Henry joined for the 4th lap and though I couldn't run much that lap and was not feeling good, it was lovely to have him as part of the team. Laps 5 and 6 came and went. It was bizarre to be out running with friends at 10/11 o'clock and passing the occasional dog walker who must have thought we were mad!
There were lots of people involved in the run. Kerry and Emma ran the whole marathon. Martin, Darren, Michael, Matt, Henry and Dad Clive all got involved too. I was pleasantly surprised that Dad followed us on bike for most of the run and then even ran the last chunk! It was lovely to have that family support.
The final lap there was me, Kerry, Martin, Emma and my Dad bringing up the rear. Most of them went ahead of me in the last section so when I arrived home for the final time, there was a group of smiling faces waiting for me, as well as the beautiful medal my Dad had made me, and a trophy to boot! 🏅
I felt great to have finished and very relieved that the pain had gone so I had been able to finish feeling mentally and physically strong. I came in a few seconds before midnight.
Run Time – 5:48:19
Total Time – 15:51:31
Writing this, two days later, I'm very pleasantly surprised at how few aches and pains I have. A couple of little blisters but no real muscular issues at all. Thanks must be given to Reactivate – Sports Massage Therapy for two hours of solid muscle-pummelling in the last couple of weeks to get me in good nick for the event. It must have worked! Overall, it was a fantastic experience and I have learned a lot that I can put into practise for my future training and events.
I have been overwhelmed by the support I have received from people donating to my fundraising page, with help from Michael Casey promoting my efforts on Your Harlow. The total currently stands at £885 for the Essex Disabled Sports Foundation.
Thank you to everyone who joined in, cheered, helped out and generally wished me well. Special thanks to my Mum for being aid station leader and putting up with my endless, changing requests! You were definitely the right person for the job as I can't think of anyone in the world with more patience.
Right, now for a spot of lunch so I'm fuelled up ready for a social bike ride tonight.