HARLOW Labour members have warmly welcomed Labour leaders, Sir Keir Starmer's first speech as Labour leader.
It was delivered remotely but neverthless made quite an impression.
Harlow Labour leader, cllr Mark Ingall said: "What we heard from Kier today was an optimistic speech. A vision of properly funded universal public services, world class education that unleashes everyone's potential, a huge investment in skills, a plan to work hand in hand with businesses and trade unionists to create high quality jobs, a determination to provide opportunity and security in every part of the country and every stage of our lives, a country committed to a cleaner, greener and fairer society. These are the issues that I have campaigned on here in Harlow and it is great to hear a national leader express them so clearly.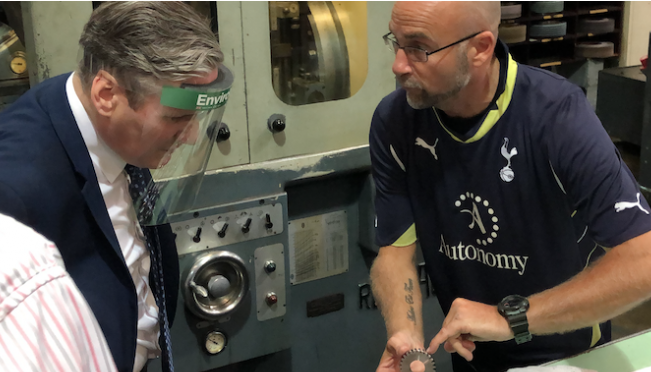 "But these things can only happen when Labour wins back the trust of voters across the UK, when we are rid of the current government of incompetents.
Mr Johnson and his cabinet, appointed for personal loyalty rather than ability, have shown they are not serious, they are not up to the job and that they are holding this country back. Johnson needed to get a grip, but he has lost control
"Labour is under new management with Kier; I fully endorse his leadership and his optimism for the future of our great country."
Little Parndon and Hare Street councillor, Chris Vince was equally positive.
Cllr Vince said: "Keir Starmer showed, in his speech that he is not only the right person to lead but also the right person to lead the country.
"What shone through was his belief in social justice, equality but also in the potential of our country. A potential which has been stalled by ten years of the Tories."
Harlow Labour member Rhiannon May watched the speech live and is one of a younger generation enthused by Sir Keri Starmer's leadership.
==
Rhiannon said: "I was really impressed by Sir Keir's speech. It instilled a sense of patriotism and pride in what our country could be, of which I've never really felt before. That being said, we need to ensure our patriotism is inclusive and open going forward, so that no-one from a minority background is excluded.
Keir Starmer was entirely right that when losing the trust of the electorate we must look to ourselves, rather than the voters to see what has gone wrong and ensure we change to regain that trust. I feel like we're heading in the right direction after hearing his speech.

Popularity: 1% [?]