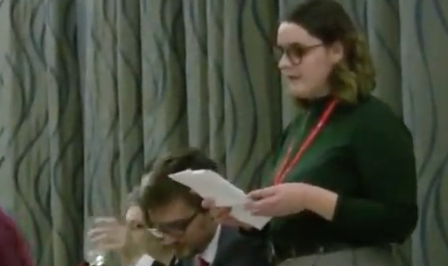 IT is always a fitting tradition that a farewell speech is made to mark any councillors who will not be seeking re-election.
After four years, Labour's Shannon Jezzard will not be contesting the Netteswell ward.
The young councillor has moved out of the area for work purposes.
At the last council meeting of the civic year, cllr Chris Vince delivered a heartfelt and glowing tribute to cllr Jezzard.
Cllr Vince said:
"If I was asked to describe Cllr Jezzard in 3 words it would be intelligent, passionate and kind. In fact I would use 4 words and say caring and kind.

"I know that Cllr Jezzard will come back and visit us in Harlow because when we visited Peterborough a couple of years ago, only for the day, she got home sick so I am not sure how she will cope even just across the boarder in Hertford.

"Jokes aside I want to say to Shannon a big thank you for caring so much about our town, thank you so much for caring about the mental health of our town but above all thank you for the friendship you have shown me.
"We wish you all the best for the future and will miss you a great deal".
The speech can be followed from the 40th minute below.
We are sure that many will agree with cllr Vince that our town needs more young people such as Shannon Jezzard, who are prepared to play their role in civic society.
We need more conviction politicians who are prepared to stand up for what they believe in.
Many will disagree with cllr Jezzard on a whole host of issues but at least you know what she stands for. She is also in possession of the quickest responses to request for statements. We will certainly miss them!