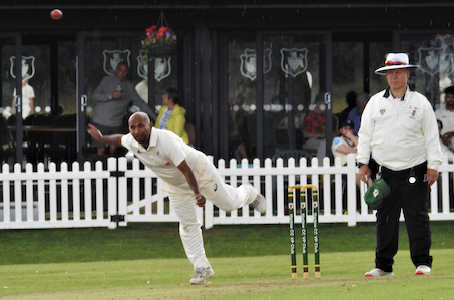 HARLOW CC First XI lost their opening Hamro Foundation Essex Senior League fixture at Marigolds on Saturday losing by 37 runs to visitors Newham CC. Pre-season fixtures had given Harlow's supporters an idea of what they could expect this season – basically anything and everything all bundled up into each game. This young, developing team can be forgiven for some of their lapses as some of the cricket they produced was of a very good standard but interspersed with some fairly average play that undermined their bid for an opening day victory.
Having won the toss Newham made the decision to bat first on a fine looking wicket. Despite an early wicket for the excellent youngster, Abdullah Farooq, the visitors took advantage of anything pitched up to race along at over 8 an over in the early stages. To Harlow's immense credit a combination of energetic committed fielding and some tighter bowling from Sarfaraz Ahmed and Mark Quant along with young Farooq stemmed the flow of runs.
As Harlow grew into the game every bowler contributed as the run rate reduced dramatically as wickets tumbled at regular intervals. At 179-8 Newham looked as if they would fail to bat out their overs and provide Harlow with a very manageable run chase but, as in previous seasons, the home side just couldn't polish off the opposition when they had them down.
A blistering and destruction half century from Newham number 9, Khawar Khurshid, did the damage (literally with balls bouncing off the pavilion roof and others disappearing into the neighbouring bowls club). A closing total of 257-9 in 45 overs looked a tough ask and home heads were no doubt slightly down after the balance of the match had swung away from them in such a short period of cricket.
Farooq 3-33 (8 overs), Sarfaraz 3-40 (9 overs), Quant 2-53 (9 overs), Webb 0-1 (1 over), Messenger 0-55 (9 overs) and Sykes 0-63 (9 overs)
In reply, openers Ben Yeats and Syed Hassan made steady, if unspectacular progress, until Syed was bowled for 31 having just started to really put the foot down. Sadly for the hosts exciting new batsmen, Gull Hassan, made only 11 before being trapped in front of the stumps on the back foot. with John Perry following in similar fashion when looking settled at the crease. Yeats kept ticking over partnered by Farooq but Harlow's two youngest First XI players couldn't keep up with the required rate leaving a mountain to climb when the latter was dismissed for 20.
Yeats (104) accelerated late on to reach his second century of the season in his third game but by then the match had pretty much slipped away from the home side and late order hitting merely reduced the size of the defeat as they closed on 220-8.
I suspect this will be a regular line this season but many positives to be taken and yet some critical issues to be addressed if the side are to be in the upper reaches of a highly competitive division. The attitude and effort across the side could not be questioned and once again the young players made significant contributions as did the returning Sarfaraz Ahmed who found variation and turn on a consistent basis.
The second XI travelled to play their counterparts from Bishops Stortford CC. Harlow restricted the opposition to a total of 200 with Matt Hart 3-27 (7 overs), Amir Farooq 2-31 (8 overs) and Tyler Dobson 1-15 (8 overs) the pick. Openers Atif Mustehsen (68) and James Forde (31) got Harlow's reply off to a brisk start. Skipper Harry Burton struck a half century (52) and despite some late wickets Harlow reached the target for a 3 wicket win.
A combined 3rd/4th XI achieved a sizeable victory on Spicers Field. Dip Basnett struck an unbeaten century and Myles Baldock took 2-8 (5 overs) as they provided too strong for their guests in a friendly fixture.