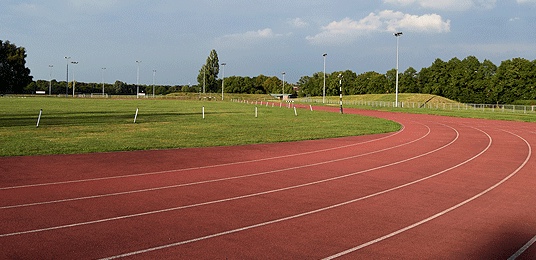 AN emotional night at Lee Valley saw some excellent racing at both 100m and 200m distances that befitted the occasion of Mick Bond's retirement. Mick has had a long career in athletic administration and was the founding manager of the Lee Valley Athletics centre fifteen years' ago. Those outside of athletics may not know him but will have witnessed the slick manner that events at the Olympics were handled in 2012. This is largely down to the organisational skills that Mick possesses. His lasting legacy will be the centre that now provides a year round training facility and has aided the development of athletes across London and East Anglia.
Four Harlow athletes were involved; Edward Brown and Thomas Grey ran in the 100m and Marley Sarling and Shemar Boldizsar ran in the 200m. It was another graded event and Brown went in the fourth heat of 8. This was his first run of the season and he will be satisfied by matching his PB, as he ran 11.27s for fourth place. Thomas Grey was making his debut as he ran his first ever 100m. He acquitted himself well up against older athletes and finished sixth in the eight heat in a time of 15.12s.
Sarling was in Race 3 of the 200m and in a strong field on a night of strong fields in the top races. This was his first run at 200m for the season and he recorded a time of 23.28s to finish sixth. Boldizsar was in the first heat that brought together a very strong field – all eight finishers did so in under 22 seconds. The decision to withdraw from Sunday's 200m at Loughborough was vindicated as he ran an excellent race in near perfect conditions in a time of 21.17s. To cap a fine night, this time was well inside the qualifying standard for the European U23 Championships, his first goal in an Olympic season.
Bebe Jackson
Bebe Jackson's performances at both the back end of a truncated 2020 season and the beginning of the 2021 season have been written about previously and it was noted that she would catch the attention of Team GB para selectors. She certainly has and the club received news on Thursay that she has been selected to take part at the re-scheduled Diamond League event, in Gateshead on 23 May. She is classed as T44 with balance and mobility issues, the same class as Kadeema Cox and Sophie Hahn, and will be lining up against them at this event.