WHEN Harlow First XI skipper Jake Messenger pulled on his PJ's on Friday night I doubt he could have dreamed of a more perfect response from his side to last weekends debacle at Bentley. The 'baggy green's' completely outplayed their previously unbeaten opponents who arrived at Marigolds challenging at the top of the table and boasting a current contracted Essex county player amongst their number in Jamal Richards.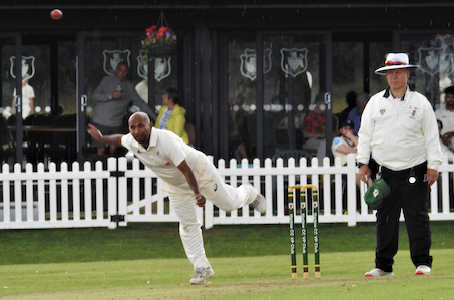 By 3pm Harlow had wrapped up a 9 wicket win after ripping through the visitors batting to dismiss them for a mere 55 all out. Destroyer in chief was the diminutive left arm spinner, Sarfaraz Ahmed, who took an outstanding 7-25 after taking the new ball. Huge credit must go to the captain who made what was surely a difficult decision not to throw the ball to last weeks star bowlers, Callum Sykes and Mark Quant. The pair had bowled superbly at Bentley taking 7 of the wickets for virtually no runs and looked unplayable at times but Jake went with the courage of his convictions in opening up with pace from new signing Rob Petchey at one end and Sarfaraz's spin at the Pavilion End. Oh my, it worked a treat.
The athletic tattooed figure of debutant Petchey was first to strike with the key wicket of Derrick Adkari who could only glove a delivery that lifted off a length to gully where Mark Quant made a good catch diving forward. The very useful, Harry Neicho, was next to go as Callum Sykes took a very good catch off his bootstraps after the batsman had driven uppishly at Sarfaraz. A poor start turned into a calamity for South Woodford as a succession of talented young batsmen came to the crease, attacked from the off, only to perish in short order to the variations of Harlow's talismanic spinner.
Rob Petchey's excellent opening spell of the season ended and young Abdullah Farooq took up the mantle claiming two wickets for himself including a superb diving catch off his own bowling to dismiss the last man as South Woodford closed on 55 all out in just 16.2 overs. Such was the extent off the one sided nature of the contest Jake only needed to turn to three bowlers who had all delivered for him on the day. No doubt frustrating for the likes of Sykes and Quant but they had responded superbly both taking key catches and being a hugely positive influence in the fielding which was once again of a high standard with every catch taken (including a highly commendable boundary effort from Syed Hassan) and no ground fielding errors.
Sarfraraz Ahmed 7-25 (8 overs), Rob Petchey 1-18 (4 overs), Abdullah Farooq 2-11 (4.2 overs)
The only question remained was whether the nightmare of Bentley would traumatise our batsmen to such an extent that we would fall over our feet again chasing a small total. The answer was a comprehensive NO. Ben Yeats and new opening partner Atif Mustehsan added 35 for the first wicket before Atif fell LBW for 12. Ben (27 not out) and Syed (17 not out) saw us to the target and a richly deserved early afternoon off and 20 league points.