TYE Green Library is set to host a special launch event for Moira's Magical Dream Strands – the new book by local author, Yasmin Azeem Khan.

Taking place Thursday 28 October 2021, 10:00-12:00, attendees will get the chance to meet the author and listen to extracts of the book, as well as to take part in craft activities, balloon modelling and quizzes. There will be a free bookmark for every child, and the chance to win a signed copy of the book. To add to the fun, people are encouraged to come dressed as a fairy, troll, wizard or butterfly.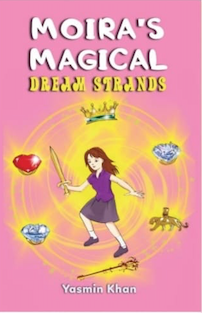 Aimed at young teens upwards, Moira's Magical Dream Strands is an adventure book full of magic, centred around a young, kind and caring girl called Moira. Describing the book, Khan says: "Moira has been having premonitions and encounters with the supernatural throughout her life, but everything becomes reality when Moira's brother goes missing and she is sent on a mission by the Queen to find seven heirlooms in order to save him."

A published poet, this is her first book, which she says she started writing because she "Wanted to write a book that was so original and filled with amazing events – for people to read my book and say 'Wow! How did the author think of this?'"

Her father was also a poet and she is sure he would have been really proud of her. "Being a published author means everything," she says. "It means that I have achieved something in my life. My late father also wrote poetry, and started writing after his brother died in the army. My father would have been really proud of me."

Born in Harlow, Khan appreciates the role that libraries play in our lives, describing "Libraries are a place to go to to have some me time, some quiet time. A place away from daily life."

Join Yasmin Azeem Khan at Tye Green Library, Thursday 28 October 2021, 10:00-12:00.