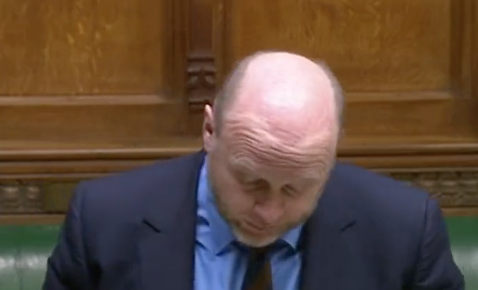 BIRMINGHAM Hodge Hill MP Liam Byrne rose on the floor of the House of Commons to support a bill on alcohol harms.
Mr Byrne was raised and educated in Harlow. He attended Burnt Mill Academy.
His campaign centres on the death from alcoholism of his father, Dermot Byrne, who was chief executive of Harlow Council.
Mr Byrne said:
"I am grateful for the chance to contribute to this debate, and I thank the Backbench Business Committee. It is a real privilege to follow Derek Thomas. In my remarks I will speak for myself, but I will also try to say a few words for my hon. Friend Dan Carden, who, as was mentioned, is with his family and his father Mike, who is receiving palliative care after treatment for lung cancer. I know I speak for all of us when I say that all our love, prayers and best wishes go to my hon. Friend and his family.
This debate is profoundly important. It is important for many people, such as the hon. Member for St Ives. It is important for many of those who are hon. Members and, like me, children of alcoholics. I am the son and the grandson of alcoholics. I watched those people die from alcohol and I watched how this terrible disease cascades down the generations, causing chaos, pain and distress in its wake. In the all-party children of alcoholics group, which I co-chair, we have come together because we know that we have to try to break the silence in order to break the cycle of the disease cascading down any more generations to come. We know too that we have to normalise the conversation, and that means that we have to help organise the conversation. That is why, for us, this debate is so important.
There are so many people, and so many Members of this House, who are still bound in fear with stigma and shame that stops them speaking out. I have now lost count of the number of our colleagues here who have approached me in the Lobbies and corridors to say, "I too am the child of an alcoholic", but, for whatever reason, they are not able to speak out. I almost did not speak myself. I did so only through the spiritual guidance of Father Gerry, God rest his soul, at St Chad's Cathedral in Birmingham, who helped show me that if, by speaking out, I could effect change, then I was doing the right thing: that in fact what I would be doing is honouring the boy that became the man that became my dad. My father was the child of an alcoholic and he had no help available to him. So I hope that this debate encourages more of us in this place to speak out and talk publicly about the things that people have said to me in the Lobbies and the corridors, because we have a wrong to right, and that wrong is that we have no strategy for tackling alcohol harm.
My work on this issue goes back to 2015 and the election of that year. David Cameron, the Prime Minister at the time, was busy waving my famous leaving note at the Treasury. It was something that caused me immense public shame. But what I could not talk about at the time was the intense private shame that I was going through nursing my father in the final days of his life at Princess Alexandra Hospital in Harlow. He died on the morning of St Joseph's Day. After his death, and after that election, I fell to pieces. It was only through getting in touch with the National Association for Children of Alcoholics that I discovered that I was not alone.
I grew up knowing all the feelings that every child of an alcoholic becomes all too familiar with: trying to make yourself invisible to disappear from the shame of some terrible public incident; the chronic insecurity; the co-dependency of supporting others, in my case, my mother, from the age of eight; the bouts of violence, luckily, in my case, occasional; the hospital visits; and the trouble with ambulances. There is the pervasive sense of guilt. Am I doing enough? Is my father okay? Is he eating? Is he starving? Or is he on a floor somewhere?
There is the drive for perfection: the striving to please someone who does not really seem to care. Not long after I got into the Cabinet—it was a moment of immense pride for me and I wanted to show my dad how proud he should have been of the work that I put in—he came to our office at the Cabinet Office; it is a grand place. He was too drunk to stand. It was utterly humiliating and we had to bundle him out as fast as possible. I came to see that nothing I could do would ever be good enough, and nothing I could do would stop him drinking. Every child of an alcoholic can tell scores of stories just like mine.
Those who helped me process trauma taught me that you have to build an integrated picture of the past with the good and the bad, the light and the dark. For children of alcoholics, the pieces of the puzzle that you try to put together are so sharp that they cut you, and you bleed. That is why support from organisations such as the National Association for Children of Alcoholics is life-changing. It is not just a helpline; it is literally a lifeline. That is why we must do better in putting a strategy in place to combat the harm of alcohol.
I am not sure that I would be here without NACOA's help, and that is why I say a profound thank you to Hilary Henriques and her team—Piers, and Josh Connolly. I also thank the amazing patrons Calum Best, Tony Adams, Camilla Tominey, David Coldwell, Sophie K, and so many others. I speak for all involved in our movement when I say a profound thanks to Her Royal Highness Princess Catherine for her leadership in supporting Forward Trust and the Action on Addiction alliance of which NACOA is so proud to be a part.
My father was an inspiration to me. He was brilliant, charismatic, a fighter for love and a fighter for decency. But he was in the grips of an addiction for which there was no help. What was true for him is now true of thousands of children. What is so appalling is that one in five children in this country are in that predicament—they are children of parents who drink too much. More than 60% of care applications involve the misuse of alcohol or drugs. Parental alcohol misuse accounts for nearly 40% of cases where a child is killed or seriously injured. Children of alcoholics are more likely to become addicted to alcohol, to develop eating disorders and to take their own lives. That is why we need a strategy to combat the harm of alcohol.
When we started our work in 2016, we discovered that not one local authority had a strategy for children of alcoholics. In our last survey, that had gone up to half—but that means that half do not have strategies in place—and more than 90% of local authorities were cutting budgets for drug and alcohol treatment despite some having rising admissions for alcohol accident and emergency cases. Half of councils saw referrals for alcohol treatment going down, not up, yet we still do not have a strategy for alcohol harm.
My hon. Friend the Member for Liverpool, Walton wanted to make the point that almost three people an hour die of alcohol-related causes. Alcohol-related harms now cost us £27 billion a year. People from the most deprived communities are 60% more likely to die than those in richer communities. Alcohol-specific deaths have soared by more than 20% over the course of lockdown, and 40% of crime is linked to alcohol, yet we still do not have a strategy to combat alcohol-related harm.
To help Ministers, children of alcoholics across the country united to draw up our first manifesto for change, with a simple set of 10 messages therein. It has a beautiful instruction from his grace the Archbishop of Canterbury, himself the child of an alcoholic. We want: to ensure that there is a strategy for children of alcoholics; properly funded local support; better support for families; better education and awareness for children; a plea for the Government to help lead a change of public attitudes; better education and training for those who work with children; minimum alcohol unit pricing; to curtail the promotion of advertising on alcohol; and the Government to take responsibility for reducing rates of alcoholism. We want a strategy for reducing the harm of alcohol.
My hon. Friend the Member for Liverpool, Walton wanted to highlight the points made about minimum alcohol pricing. If he were here, he would have highlighted that in some ciders a unit of alcohol costs just 19p. That means a person can buy the recommended weekly maximum of 14 units for £2.68—less than the price of a cup of coffee. In Scotland and Wales there is minimum unit pricing, which is working—it is driving down addiction rates—and the Government should learn from it. Equally, alcohol advertising needs to be curtailed.
Finally, we thought that under Jeremy Hunt we were making progress. Funding for the NACOA helpline was put in place, as was funding for pilots. Inexplicably, at a time of surging alcohol misuse, the funding for those programmes has stopped. We assume that that is an error and we look forward to meeting the Secretary of State to talk about reinstating that funding.
We know that we cannot change things for our parents, but we are damn well going to change things for our children. That means campaigning until we get a strategy in place to tackle the harm from alcohol.
All speeches can be found below.
https://www.theyworkforyou.com/debates/?id=2021-11-25a.547.0&s=day+speaker%3A11360+speaker%3A11360#g551.0