SIXTY-nine new officers have started work in your communities after passing out on Friday.The 35 men and 34 women took their oath to join the thousands of others of brave officers helping you, keeping you safe, and catching criminals every day.
The new officers are part of our continued investment which will see more than 3,553 officers in our force by March next year.
Three of the new officers who will protect and serve your county are PC Keeley Duncan, PC Liberty Keyse and PC Sarah Scully.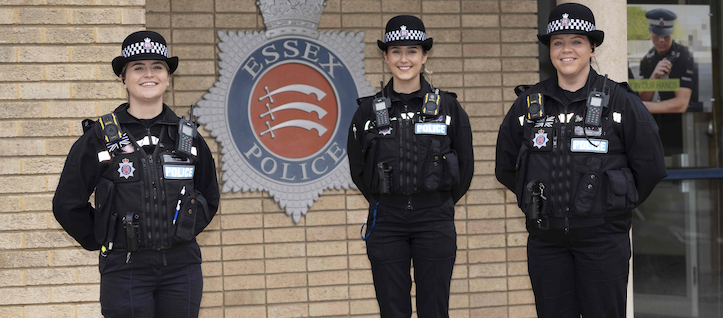 PC Duncan, who will be based on Chelmsford's Local Policing Team, said her two years volunteering as a Special Constable were the reason she undertook further training. She said: "This is such a proud moment for me."My dad's in the army and my mum was in the Royal Ulster Constabulary in Northern Ireland. I'm really proud to be able to follow in their footsteps and make a difference to the community.  
"Being a Special Constable was full of moments where I knew I'd made a real impact on a victim of crime, or the loved ones of someone who had passed away unexpectedly."That's when I realised this is what I want to do forever. I don't just want to do it one or two days a week – I want to do it for the rest of my life."
PC Keyse, who will be based in Basildon, has always wanted to be a police officer. She first applied to be a Special Constable at 18. By 22, she was successful, spending over two and a half years volunteering. She said: "I've been trying to do this for seven years, so to get to this point, I am on cloud nine. "I trained to be an accountant, as well as in fashion and textiles, which is completely polar opposite, and at one point I wanted to be a journalist. I've always had it in the back of my mind that I wanted to be in the police.
"There is nothing in this world I've wanted more, and my parents and my partner have seen how hard I've worked for this."PC Scully, who will be based in Loughton, joined Essex Police after her best friend, also a police officer, inspired her to take the leap.
She said: "I'm 32 and I left college at 19. I hadn't done any type of formal exam in that time. That's been the biggest challenge for me because it's been in back-to-school learning mode. "But we've had a really good mix of tutors at the college. They've been so good at helping us and making sure we all know what we're talking about and what we're doing. "And, as a class, we've had such a tight friendship and we've even had revision nights. If you're not sure, there is always someone there to help you get through it."
Chief Constable BJ Harrington was joined in welcoming our new officers by Police, Fire, and Crime Commissioner Roger Hirst, Lord Lieutenant of Essex Jennifer Tollhurst, Lieutenant Colonel Ed Rankin the Colchester Garrison Commander and Andy Lamont the Garrison Sergeant Major as well as Vicky Ford MP.
Chief Constable Harrington said: "Essex Police is made up of different people with the same values. We are one team, one family, one county and one force."As they join our local policing teams, they will be focussed on gripping drug-driven violence, domestic abuse, night-time economy disorder and the impact of criminal gangs. "
They will be confronting those who believe – wrongly – that they can behave violently or aggressively towards women and girls or towards anyone else in our society. In our county, no one must be victimised for who they are or what they believe in."
Essex Police's detectives are very good at catching killers and arresting and charging serious offenders. In 2022, the job of our new officers will be to stop criminals before they have an opportunity to do harm. "Our priorities are clear. Investigate crime. Detect crime. Prevent crime."Catch criminals, protect people, keep people safe."At Essex Police, we value difference, and know that we're strongest when we all work together. 
Our officers have different life experiences, different skills and represent communities from across our county.We're here for you and your loved ones in times of emergency, and we're always looking for new people to join us.