By Michael Casey
On March 1st, 2020, I published my first story on Covid-19.
Since then I have published over 1300 stories on the subject.
Back in March 2020, I was interviewed by BBC Look East outside William Martin School when the building was undergoing a deep clean after a member of staff returned from one of the first Covid hotspots in Northern Italy.
What I said then has remained my mantra: "My degree is in History and not medicine. When I was at University (Stirling 1981-85) the medicine department was right next door to History.
"I never ventured down there then and I am not about to know. All I can do is present the stats and take it from there"
Nearly two years later, here I am.
But I just wanted to take this opportunity to give an overview of where I think Harlow is and where it is going.
Infections
Back on January 4th, 2021, Harlow hit a high of 1327 cases. The number of people in Princess Alexandra Hospital (PAH) with Covid was 204. They were spread over 10 wards.
I was very worried that day. I wondered how much higher the number of cases were going to go?
However, that was the "high" point and they soon started to decline.
There were 179 deaths in January. By April that I had drastically declined to 2 and by June, zero.
The number of cases fell so that by April we were down to 2.
Then came the slow but steady increase. Early August: 465. Late September: 165. Late October 491.. Late November 495.
By mid to late December, we have, what we are in the middle of, the huge Omikron surge. The figure for December 19th is 969. We will next get figures on December 27th and we have no doubt it will be over 100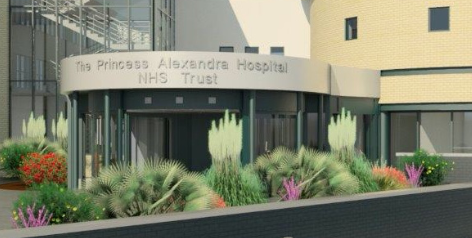 Hospitalisation
However, whilst we have 969 cases in Harlow. The number of people in PAH is under 20.
Jan 21: 1327-204
Dec 21: 969-20
We may also look at deaths.
Jan 21: 179
Dec 21: 7
So, what's the problem, say some?
We think the problem now is staffing at PAH. Among the 969 figure for Harlow and the massive figures for areas in London, will be PAH staff. That means they are in self isolation. That will be staff across the wards and across the health service in Harlow.
That appears to me to be the problem.
We also have around 250 plus people attending A and E. Whereas it was nearly empty last year.
There are many people saying that they cannot get access to their GP. There is access and face to face. Again, it would be interesting to see a pre-Covid and Covid comparison.
However, fact is, there may be too many people going straight to A and E.
I have the feeling that if you really need to see your GP, you can. I hate to do that personal experience as it is just ne person out of 85,000 but….In June, I rang surgery with concern. Three week wait. Mentioned it was blue/purple colour on head. Gave me 9am, three days time at Lister House. Attended, they referred me to Dermatology at PAH. Saw the consultant a week after that. Prescribed Efudix. applied Efudix for period of time. Got all clear in November. Thank you NHS!
What do we do next year? I will come to that.

Vaccinations.
Glass Half Full.
The vaccinations in Harlow have been a real success Nearly 70% have had both doses and nearly 42% have had both doses.
The vaccinations have been superbly organised and say everything about the Harlow community.
Glass Half Empty
We are in the region of 18,000 Harlow residents, who have not had a vaccination of any kind. That's a scary figure. Their reasons will no doubt be many.
We don't think that figure has budged much since the autumn and it is unlikely to. That may be something we will have to live with.
Compliance
I think we tend to underestimate or undervalue, how many people simply do as they are advised. Go into any supermarket in Harlow over Christmas and we would say that 98% of shoppers were wearing masks. However, others see if differently.
Could the country be stricter. People look at other countries but there are other countries with different histories. China can lock down a city of 13 million after 54 cases because they are an authoritarian country. Others were also authoritarian until (relatively) recently, for example Spain and Portugal.
Next Year.
Many say that we will have to live with it, in the way, we live with many diseases. There were 6,000 cases of TB in the United Kingdom in 2020. You think it has been eradicated but it hasn't. But control is a million times better. I can recall a fellow pupil being off at my school for six months back in 1973.
What does "live with it" mean? Does that mean the staff with a mild infection at PAH, like people who work in the city, or teachers, council officers, will just need to go into work? Should they treat some sort of mild Covid as if they had a mild cold?
There are a number of companies in Harlow that are not paying sick pay to unvaccinated staff, who go down with Covid.
Education
The schools will have to go back. This is where conversations will start to look like Abbott and Costello "Whose on first sketch". But what if there are no teachers etc.
I would refer you to Harlow MP's Robert Halfon's education committee. There are three year olds with speech delay, there are sixth formers in danger of not getting the best opportunities. There is a huge disparity in access to on-line learning in Harlow primary schools. There have been sports champs in Essex with hardly any Harlow representation compared to Grammar and Independent schools.
Mr Halfon's cross-party committee backed by education leaders such as the children's commissioner seem to stress that there are too many other problems that could arise by keeping children off.
I also know that there are many many businesses in the Harlow leisure industry that will not survive if we are in the same situation in December 2022.
Conclusion: The Year Ahead
So what does 2022 bring us? I don't know. I haven't a clue. I finish where I started. I had never really heard the word epidemiology until March 2020 and when I read many articles, I still have the look I had when I sat my O Level Physics in 1978 (Grade: Unclassified).
All I can do is provide our stat return every day and take it from there. I place my faith in those I have a pretty good idea, know more than me.
My only advice is to read widely. We would start with Dr Phil Hammond (Private Eye and find him on Twitter). Of course, you could go on social media and find some grifter or just a good old fashioned ignoramus, who should really look up the Dunning-Kruger effect but, you know………….
Happy New Year.