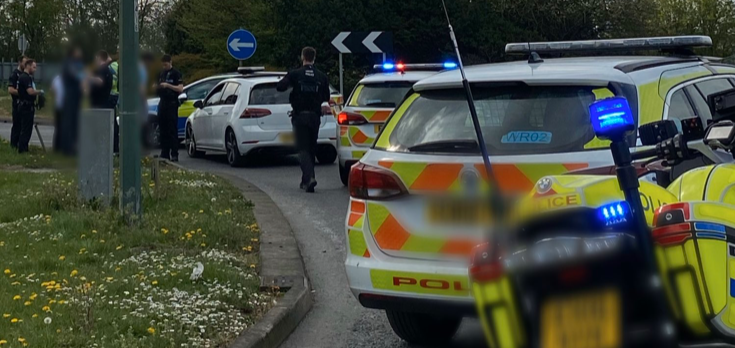 ON Saturday night (11 June), officers from the Roads Policing Unit closed off Elizabeth Way, Harlow, following reports of more than 20 vehicles taking part in anti-social driving as part of a car meet.
Responding to residents' complaints that drivers were taking part in driving behaviour including speeding, doing "donuts" and loudly revving engines, officers closed off the area between 10.30pm and 11.30pm to speak to drivers and spectators.
Sergeant Will Willsher, Essex Police Roads Policing officer, said: "Now that the good weather is here, we are seeing more people come out to what is referred to as a car meet where car enthusiasts come together socially to chat to each other and admire others' cars.
"When they are held peacefully and respect the residents and businesses in the local communities, they can be enjoyable for everyone.
"Unfortunately, some people come to take part in anti-social driving behaviour. It's a risky activity, with potentially serious outcomes if anything went wrong.
"Even spectators standing nearby could be put at risk if a driver lost control of a car while speeding.
"We shut the road for an hour, to tackle the issues raised and keep everyone safe."
There have been car meets across the county in recent weeks, the most serious being last week when a car meet that started off peacefully, escalated through poor and dangerous driving and saw the driver of a car lose control after hitting some concrete. The car sump was ripped off and the resulting oil leak put other road users at risk.
PS Willsher went on to explain: "Had the driver struck a pedestrian in the crowd, there could have been a fatality.
"So, I would like to remind anyone who attends a car meet, to do so safely, don't take part in anti-social driving and for spectators to remain at a safe distance."
Officers handed out less than 10 tickets for minor offences and one notice of intended prosecution will be issued to the driver of one vehicle.
Complaints from residents included badly parked vehicles causing obstructions for other road users, cars racing each other, abusive behaviour towards residents, cars blocking the entrance to a car park affecting the business's trade, congestion back to the M11 slip road, speeding, people in the road taking photos and stunts being carried out.
Once the vehicles were checked for road worthiness, and it was safe to do so, the road was reopened allowing everyone present to leave the area.