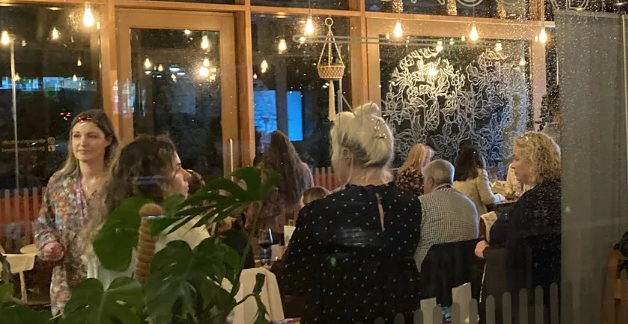 AT THURSDAY night's Wrap Up event members helped to celebrate the success of Opportunity Harlow at New Ground Café. Businesses, large and small, shared their experience of being a member and what it has meant to them. Plus, we heard about the plans Harlow Council and the Haven Gateway Partnership have for supporting businesses in the future

Julie Houston, Assistant Director Community Resilience at Harlow Council, began the talks by giving thanks to the Haven Gateway Partnership and the Local Authority team for delivering such a great project. She thanked all local businesses that have participated in the Opportunity Harlow pilot scheme.
Julie reassured members that business is still very much on the agenda in Harlow. The Council will continue to run the Harlow Business Forum, to provide local procurement opportunities and will launch a directory website to ensure businesses in Harlow can easily find and source local suppliers – which often don't appear in Google searches.
Members share their Opportunity Harlow experience
Emma Robson from Stort Valley Spirits was next to share her experience. Initially, Emma thought Opportunity Harlow wasn't right for her business as a supplier of alcoholic products, however as their business was introducing a new corporate gifting service using only locally sourced food products, they decided to attend the first Opportunity Harlow event back in March. It was at this event that the concept of a local food and drink network was created. Emma was heavily involved in the planning of the first ever Harlow Food & Drink festival held at Redchurch Brewery where over 1,000 people attended on the Jubilee weekend.
Next to share his Opportunity Harlow experience was Raja Naveed, founder and director of EEH-Solutions. Raja thanked the team behind Opportunity Harlow for delivering so much support and knowledge to local businesses. Raja spoke of working directly with lots of people in the room including Julie Houston from Harlow Council. He highlighted his opportunity to speak on the panel at the Harlow Business Exhibition alongside other businesses, a local Councillor and an NHS representative. He described the exhibition as an excellent way to showcase local services and skills to bigger businesses on their doorstop.
Perspective from a large Harlow business
A different perspective of Opportunity Harlow was shared by David Carter from Raytheon – one of the largest employers in Harlow. David spoke about the social value needs of Raytheon which include the importance of procuring small and agile local suppliers. He verified that Opportunity Harlow has given them a direct route to achieve this. He emphasised that even if smaller Harlow suppliers cannot currently meet the full supplier requirements of larger businesses, Raytheon can help by providing support and training in areas such as cybersecurity. David completed his talk by committing to share Harlow business offerings to the Harlow Raytheon workforce which equates to over 400 local consumers, and he hopes to be part of the legacy of Opportunity Harlow and whatever is coming next.
Summary from The Haven Gateway Partnership
Anita Thornberry, Executive Director from the Haven Gateway Partnership concluded the speeches by giving thanks to Harlow Council and the Haven Gateway team behind the delivery of the project. Anita highlighted the delight and privilege of working with businesses in the local area. She thanked the businesses that have shared her commitment, passion, and energy in the project which have made it such a success.
Opportunity Harlow Key statistics
The following statistics were summarised:
Nearly 300 businesses have signed up to Opportunity Harlow. That's almost 50% over target!
70% of members are either 'extremely satisfied' or 'satisfied' with Opportunity Harlow
20 events have been delivered in just 9 months including the Food & Drink festival and the Harlow Business Exhibition which were extremely well received
Smaller businesses have been introduced to major projects such as Sizewell C and the Harlow & Gilston Garden Town development
42 businesses have been directed to grant funding opportunities
12 businesses have been directed to the innovation voucher scheme at the University of Essex
27 procurement introductions have been made to the public sector
31 opportunities were published on the portal including 15 requests for quotations
£50k has been spent with local suppliers to deliver the project

Local venues used for Opportunity Harlow events have been introduced to local food and drink suppliers
Engaging with local businesses and organisations to deliver these results in a 9-month window has been a challenge.
Previously, projects have been allowed a 2-year period to meet similar targets. Anita concluded the talks by highlighting that the level of public sector funding we've seen over the last 25 years no longer exists so the emphasis going forward will be on businesses working together: "This is how we can get through today's economic challenges, and I hope that all Opportunity Harlow members can continue to play a part in what comes next."