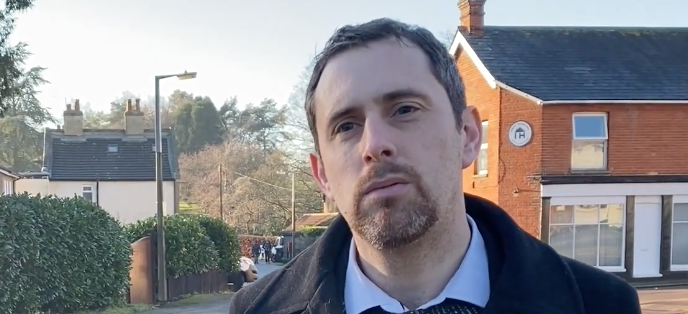 WITH THE Conservative cabinet reshuffle at Harlow Council now complete, Labour leader Chris Vince has offered his thoughts on the subject.
Cllr Vince said: "Cllr Perrin appears determined to limp on as leader of the Conservative group on Harlow Council despite a devastating vote of no confidence from his former deputy leader.  The announcement that he has been able to form a new cabinet leaves residents of Harlow with more questions than answers.
Firstly, why is there no deputy leader. Is the Leader so omnipotent he doesn't need one or is it that there are no members of the Conservative administration willing to stand shoulder to shoulder with their lame duck leader? This will be a huge problem when Cllr Perrin decides to attend Conservative Party jollies in Cambridge rather than chair his own cabinet meetings, as he did in December of last year.
Secondly, we see Cllr Hardware, the County Councillor who thinks we should turn off Harlow's street lights, taking the lead on the flagship regeneration brief. I recall Cllr Hardware already having a portfolio holder role for Strategic Growth which has now been merged with Regeneration. Will Cllr Hardware have the time to deliver on this hugely important portfolio alongside his trips to County Hall where he fails to fix our roads and lights?
Deputy Leader isn't the only role to be conveniently forgotten in this flat pack cabinet. Cllr Perrin boldly told us that he would tackle the issue of Harlow's pot holes, despite it being the responsibility of Essex County Council, yet the role of 'special responsibility for roads' has been quietly dropped just a couple of weeks after we were told immediate action was taking place. Perhaps it fell into a pothole and has been lost for eternity!
We may perhaps have had some reason to be optimistic about this new cabinet as the leader himself will be responsible for the vital service delivery partner HTS, but for that we would require faith in the leader's ability to actually engage with stakeholders. He may want to start by addressing the fact that we haven't had a share holders sub committee meeting, the mechanism by which the council can scrutinise its local authority trading company, since March of last year, and the fact their 'exciting new' business plan has been shelved.
In reality this rearranging of the deckchairs on the titanic offers no confidence to the people of Harlow, no confidence to the council's business partners and no confidence to council officers.
"It's time for Cllr Perrin to 'exit stage left' or right if he'd prefer.  Sadly it is the people of Harlow who will suffer from this continued Conservative made tragic drama of a Council of Chaos!"