HARLOW CC five adult teams were each involved in action filled matches on Saturday. The First XI suffered their first defeat of the season – going down by 25 runs at Marigolds to visitors Stanford le Hope but the news elsewhere was more positive with victories for the 2nd, 3rd and 4th XI's. The 5th XI just failed to chase down their target in an enthralling game.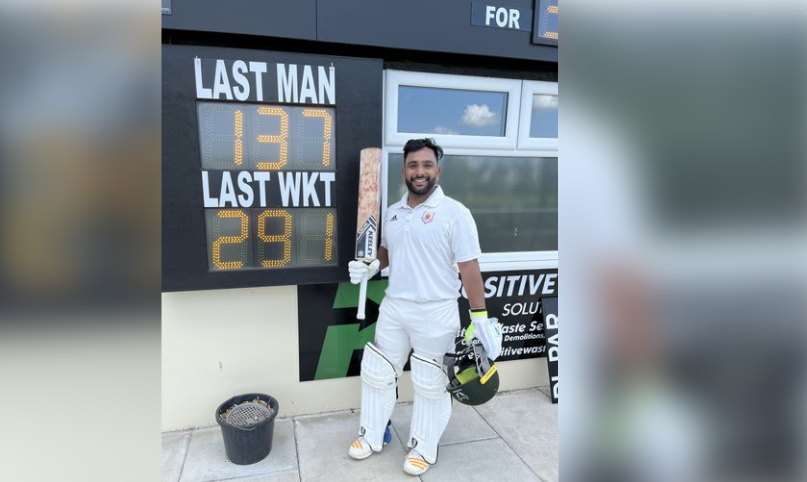 Arguably the most notable aspect of the days play were several outstanding performances across the sides. Abdul Munim (pictured) made a match winning 137 for the 2nd XI and Tijo George made a maiden half century for the club in the 4th XI fixture. Youngster George Jessey produced the staggering figures of 5 wickets for just 3 runs in 4.1 overs of spin bowling to join Tijo in helping his team to the points. Amir Farooq, 2nd XI skipper, took 6-52 and Alex Senior produced another fine performance with four wickets in the First XI defeat.
On Marigolds the First XI slipped to their first reverse of the campaign. The visitors from Stanford le Hope won the toss and chose to bat. Harlow couldn't capitalise on early break-throughs from Alex Senior and Joe Riddell as the away side made a decent 250 in their 50 overs. In reply five of the top six batters reached 20 but only Zabi Hakimi converted his start to reach a half century and in the pressure to score late runs the tail subsided to a 25 run defeat.
Far better new for the 2nd XI at Colchester as Abdul Munim dominated an innings that surpassed the 300 mark with his outstanding century. Munim reached very effective support from Arshad Muhammed (45), John Perry (52) and James Forde (25*).Any thoughts of a Colchester fight back with the bat disappeared as Amir Farooq ran through their batting taking 6 wickets.
The 3rd XI continued their perfect start to their title defence with a fine 5 wicket win against Wanstead. All the bowlers contributed to dismissing the visitors for just 140 with Sunny Ali (3-29) and Ronnie Fuller (3-24) the highlights.
Any nerves in the run chase were dispelled by Waheed Azam (26*) and Sunny Ali (21*) who led the side to the finish line with 15 overs to spare.
The 4th XI's excellent start to the season was maintained, also against their Wanstead counterparts. Aju Kizahakkedathu took 3 early wickets before youngster George Jessey destroyed the opposition batting taking 5 wickets for just 3 runs in a little over 4 overs. in a wonderful display of spin.
Tijo George top scored with 52 supported by Eliot Koopowitz (35) and Faisal Javed (32*) as Harlow chased down the 150 needed to win in double quick time.
The 5th XI were involved in a terrific tight contest against Stansted. Every one of the 7 bowlers used claimed a wicket led by Safi Sarajudeen (3-17) and Abid Shinwari (2-11) as we bowled the opposition out for 152. In reply, several players made good starts (notably Jake Hikmatshah 18, Abid Shinwari 19, Ibtisam Baig 27 and Henry Jacques 17) but nobody could quite go on the make a match winning total as we just fell 11 runs short of the win.
Another very positive week of results. Some outstanding individual and team performances. There is no doubt the club has made a really good start to the 2023 season.