A HARLOW hospital directly discriminated against an employee due to their disability a tribunal has found. However claims of failure to make reasonable adjustments and harassment related to disability, are not well-founded, the tribunal between a former employee of Princess Alexandra Hospital and the trust concluded reports the Local Democracy Reporter.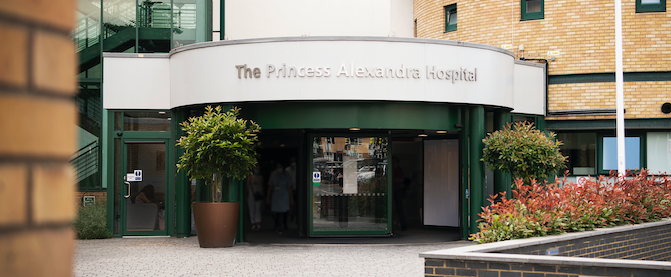 The claimant who suffers from Scheuermann's disease, severe fibromyalgia and Pars Defect, successfully applied for a full-time position as an A&E clerical coordinator at the hospital in October 2021 – a step up from the band 2 position he had been in. While he was waiting for a start date he opted to work in bank – temporary contracted shifts through NHS Professionals (NHSP) – which he started on October 28.
However on October 24 – after three long shifts which aggravated his fibromyalgia – he asked for a part-time role instead of the full-time position he had successfully applied for. The trust replied 13 minutes later explaining "it would not suit the needs of the business for a part-time position".
A senior manager added: "In regards to just working on NHSP, this would not be something I would want to commit to being as you struggle at times with your health problems and no disrespect to you, but I really need to know that shifts would not be cancelled at short notice."
A judgement from employment judge Stephen Bedeau said that the response from the senior staff member, almost immediately, was that she was unable to offer him bank work – a decision which would have been different for someone without his disabilities.
The judgement from Judge Bedeau added: "Her statement to the claimant indicates that his disabilities significantly influenced her decision not to commit herself to him working on Bank. The impact on him was that he felt it was an unjustifiable attack on his commitment to work and created an uncertain future for him. He went on sick leave two days later. In view of our findings above, we have come to the conclusion that this claim is wellfounded."
On November 26 the claimant lodged a grievance with the trust alleging that the respondent had failed to consider reasonable adjustments and that he had been discriminated against because of his disability as he requested part-time work, but the responses were unsupportive. There followed emails between him and the trust in which he challenged the refusal to allow him to work part-time. The trust repeated that it was due to the business needs of the A&E department.
But an email to him dated November 29, seized on by the claimant, said: "Unfortunately, your disability was not taken into consideration in the advice below and you will receive further communication around this." The judgement added the trust had acknowledged that the claimant's disability was not taken into account in the decision to refuse to allow him to work part-time.
It said: "On the face of it, this failure to take his disability into account was discriminatory. It was less favourable treatment because we conclude that the particular circumstances of the comparator, for example, with caring responsibilities, would have been set out when seeking advice from human resources.
"The claimant's circumstances were simply omitted when seeking advice from HR. We, therefore, conclude that this was direct disability discrimination."
It adds: "In our judgement, we concluded that only two of the direct disability discrimination claims, are well-founded. The claims of failure to make reasonable adjustments and harassment related to disability, are not well-founded."
The case is listed for a Remedy Hearing on October 20 2023, if not settled. Princess Alexandra Hospital Trust said they would not be making comment at this time, as there will be a further hearing.