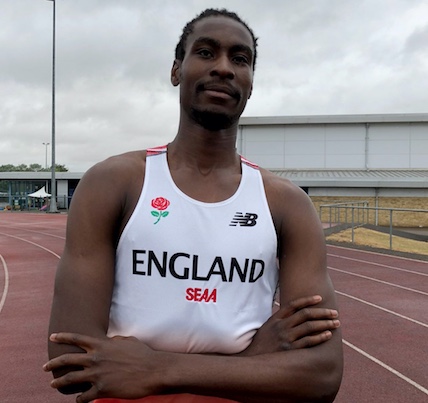 Shemar shines in Swansea and secures Manchester selection
HARLOW AC member, Shemar Boldizsar, has had his hard work and dedication rewarded by his first international call up. He was selected to represent England at the U20 Home International in Swansea for the 200m. It is a mark of how far he has come that he appeared disappointed with his winning time of 21.84s. This was still fully half a second quicker than the second placed athlete from Northern Ireland. He is now ranked forty-sixth on the latest UK's all-comers list for 2018 and is fourth in the U20 rankings.
This could certainly be considered a breakthrough season for the talented and dedicated young man. He is British University Champion indoors and outdoors at 200m and acquitted himself well at his first British Championships at the beginning of this month. He has earned another selection for England at the Manchester International on 15 August and is at his highest in the rankings to date.
Commenting on his achievements to date, Club Chair Steve Lott said; "We're immensely proud of Shemar here at the club and we'd all love to see him go to the next level and earn a GB vest. However, the three young men ahead of him have achieved European or World standards and benefit from central support in terms of training and services, such as physiotherapy and nutrition, so it won't be easy."
Steve Lott went on to invite members of the local community who feel that they may be able offer practical support to Shemar to get in touch via Mark Hall Sports Centre, or the club's Facebook page.