Under 12 Win a Bright Spark on an Otherwise Wet Weekend
STAGGERINGLY in a week that saw the mercury almost touch 40 degrees it was the rain that dominated the sporting weekend for Harlow's cricketers. Prolonged downpours on Friday night continued into the weekend and washed out every single adult Shepherd Neame Essex Senior League fixture on Saturday leaving league tables unchanged.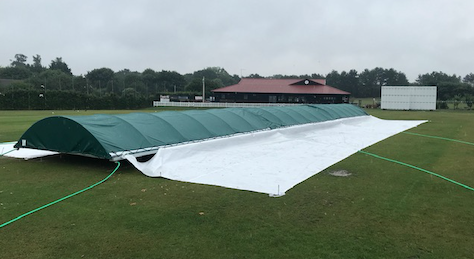 Such was the scale of the precipitation that Marigolds was declared unfit for play on Sunday as well, affecting the scheduled U16 Trevor Bailey Match Play fixture against strugglers Shenfield. Harlow's side had headed into the final round of group games on top of their six-team division and well placed for a quarter final berth with the top two to qualify. Level on points with Billericay and Chelmsford, but with a superior run rate, the Harlow side knew victory against Shenfield would put them in the hat for the knock out rounds. Sadly, the postponement was to cost them dear as both rivals were able to complete their fixtures in the rapidly improving conditions of the afternoon thereby eliminating the baggy greens. It was the cruellest of outcomes for Jack Sykes' side who have achieved fabulous success over the years and deserved far better than closing their Colts careers in such a frustrating fashion.
No such angst for Harlow's impressive Under 12 side however. They travelled to Maldon in the Brian Taylor (formerly Peter Coe) Cup for their quarter final tie with one of the players having to make a slightly longer journey than his teammates. Leading batsman, Joe Radford, flew back from holidaying on the continent in order to play in the fixture and his efforts (and those of his father) were not wasted as he proceeded to make a defining 85 not out, ensuring Harlow reached a very impressive 150-2 in their 20 overs. Joe received excellent support from fellow opener William Forde who made 39.
In reply Maldon, who were fielding an Essex representative batsman, were immediately on the back foot to the double spin attack of Radford and George Jessey as three early wickets fell. Jack Fuller and William Forde maintained the pressure with a wicket apiece in the middle overs before Teddy Lewis sealed a superb win, taking 5 wickets for only 6 runs including a stunning caught and bowled from his very first delivery. All the bowlers were supported by some outstanding fielding, especially from Owen & Sidney, was the home side were dismissed for 99.
Teddy Lewis 5-6 (3.2 overs), George Jessey 2-16 (4 overs), Jack Fuller 1-9 (3 overs), Joe Radford 1-13 (3 overs), William Forde 1-15 (2 overs), Sammi Shahzad 0-2 (1 over) and Abdull Raouf 0-25 (2 overs)