Brilliant day of cricket at Marigolds!
By Alan Howick
WHAT a fabulous day the club experienced last Thursday (1st August) when we entertained the Club Cricket Conference annual match against the MCC, being their first ever visit as far as we know. And on Spicers field, our under
11's entertained the touring California Cricket Academy U'11's as well.
Add to that, live Sky broadcast of the first day of the Ashes Test made for the complete cricketing experience!
Furthermore, despite both games finishing earlier than expected, we were then entertained by both U11's have a mixed knock about in front of the club pavilion in front of around eighty or ninety spectators!
Also, the Harlow CC vice Presidents Club who hosted the day entertained forty guests for lunch making it the complete cricket day and experience of Marigolds hospitality. The guests included local business houses supporting our club, officers of the CCC and a loud blazered group from our neighbours Harlow Rugby Club who are always great value.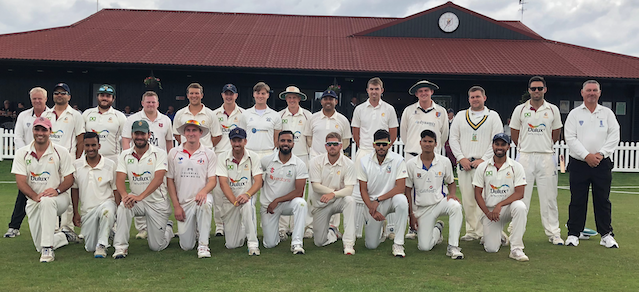 The CEO of the CCC is Simon Prodger, also an MCC member, gave a heart felt speech at lunchtime, explaining the history of The Club Cricket Conference (founded in 1915) and his own personal affinity with Harlow Cricket Club
where he first learnt to play the game with his father Peter a HCC player and Past President as is Simon's mother and grandfather.
An added bonus was the return to the club by a number of past players such as Graham Hesketh, John Mayhew, Michael Prodger and Errol Greene. In addition, Paul Fisk, who played for our colts as well as senior cricket with us.
He has generously presented us with two very unique mounted and signed England Cricket team pictures. One from the recent World Cup where Paul was engaged as the Team Security Liaison Officer for the whole competition
(7 weeks) and a second signed picture of the recent West Indies Tour.
The World Cup version with Paul featured is to be mounted and hung in the club house whereas the other will also be framed and hopefully auctioned off at the next Spring Supper next year.
YH interviewed the manager of the California Cricket Academy, Vivek Kwatra to find out a little bit more about cricket in the United States. Their coach was Tushar Arothe, ex-coach of India women's national team.