THE FUTURE looks bright for HTS's apprenticeship scheme.
At the turn of the year, three of their apprentices completed their courses and are now fully fledged employees of the company set up to provide property and environmental repairs and improvements across the town.
The three qualified apprentices are Julia Salisbury, Adam Goldspink-Burgess and Amy Edwards.
Amy Edwards has completed her accountancy apprenticeship; Julia Salisbury in business support and Adam Goldspink-Burgess in human resources.
Speaking to all three apprentices, it is clear that they have all great talents in all different areas.
Julia said: "At first , I was uncertain as to what area I wanted to specialise in and so I was very grateful that HTS gave me direction and focus.
"The guidance has been first class. I was also given an Education Award and that would never have happened without HTS".
This is an important step for HTS as the development of new young staff with new skills is vital.
Adam has been a really fixture at HTS and he is the first to praise the scheme.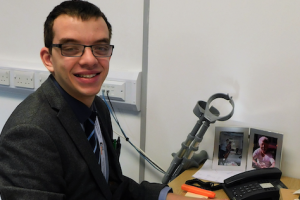 "Like Julia, the apprenticeship scheme has brought out the best in me. Over the last two years, I have learned so much. However, I feel it is only the beginning."
For Amy, there was the option of going to university but she chose an apprenticeship. Amy said: "I wanted to learn and earn while working.
"An accountancy apprenticeship has been invaluable and I can now really develop my skills and qualifications whilst being with HTS".
As importantly, this is not the end of the apprentice scheme at HTS. HTS have told us that there are many more coming on stream during 2020 and beyond.
We look forwarded to showcasing their success in the future.