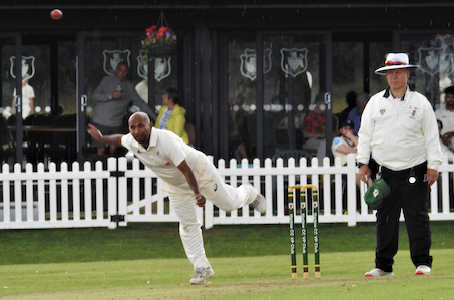 By Andy Yeats of Harlow CC
THE only winner last Saturday was the weather. Sadly, the forecasters called correctly and bang on tea the predicted sweeping rain clouds set in for the evening and brought an early end to cricketing action across the county.
Of all our sides the First XI were in best shape at the half way point having mustered a fine 233-6 in their 40 overs against Chingford 2nd XI. It looked a match winning total. Syed Hassan had set the tone with a succession of boundaries in his better than ran a ball 63 whilst Rehman Ahmed, once again, batted superbly to make 76 before selflessly going for the big shots to boost the run rate when he could have comfortably made his way to three figures in less a aggressive style. John Perry played an important but more restrained innings, keeping Rehman company, as he made 29 whilst Max Baulcomb (18 not out) and Callum Sykes (19 off 6 balls) added quick runs at the latter stages.
The Second XI also batted first in their fixture at Fives. The innings was off to a less than perfect start losing three wickets very early on before young opener James Forde knuckled down to make 54 whilst at the other end club legend Simon Baulcomb played some fine attacking shots in his 44. Skipper Harry Burton added a run a ball 29, with good support from Sunni (18 not out) and Abdullah Farooq (25 off 18 deliveries). The total of 190-7 was around par and this game looked set for an exciting finish until the heavens opened.
The 3's lost the toss at Buckhurst Hill and were put into the field. Ali Zahid struck early but a fine century partnership put us on the back foot until late wickets for Thomas Smith-Hughes (2-33), Reece Galvin (2-24) and Paddy Matthews (1-38) as the hosts reached an imposing 230-6.
The Fours were very much left to rue dropped catches that gave Ilford 4's opener Shafakat Oyon three lives on his way to a first ever century (114) out of his sides 223 all out. Knock off the 100 or so runs after the first dropped catch and one would have been looking at a totally different contest. Irfan Shoukat (3-33), Myles Baldock (2-48), Libby Riddell (2-40) and Asad Naqvi (2-18) the wicket takers.
An inexperienced 5th XI also bowled first away at Harlow Town 3rd XI and were also up against it despite their fine efforts as Town made 252-5 in 40 overs. Ben Searey bowled well without a deserved wicket (0-31 8 overs) whilst Russ Davies took 2-60, Evie Matthews 1-29 and Joe Radford 1-44.
A far better looking weather forecast for the forthcoming weekend as the First XI head to East Ham to play league newcomers Newham CC. Newham look strong having won both their games including managing to conclude their game last weekend somehow. Harry Burton leads his side out at Marigolds for the first time this season as his side host Buckhurst Hill. The 3rd XI play away to Harlow Town 2nd XI whilst the Fours travel to play Brentwood 6th XI.
Russ takes to Fifth XI away to play Lion Hawks.
Good luck to all our sides . Your support of the Second XI at Marigolds would be hugely welcomed. Shelia and her staff are pulling wonders to provide the socially distanced bar and deserve all our support.