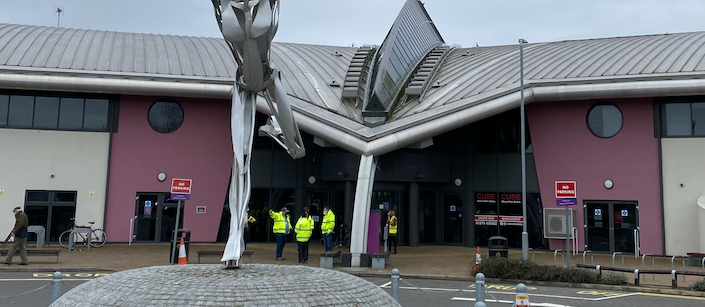 A NUMBER of objections have been made to the proposed plans for an evangelical church to move into the Harlow Leisurezone.
Last month, YH revealed that a planning application had been submitted for the Christian Revival Church (CRC) to move into the space presently occupied by the vaccination centre.
The managing director (MD) of the Harlow Leisurezone wrote a letter in support of the application (see below).
In the letter, the MD described CRC as a "good fit" for the Leisurezone, in that it would add "spiritual wellbeing" to the other health and well being services that the Harlow Leisurezone provides.
However, it is clear that a number of residents don't see it that way.
A number of objectors simply believe that the Leisurezone should only be used "for sporting activity" and another said: "I feel this space should be used for something with the potential to include all members of the community and something in line with the sport/wellness/fitness/health education/activity.."
But others have centred their objection on what they allege are the teachings of the church.
One resident wrote:
So what do we know about CRC?
CRC appear to have their main base in South Africa under the leadership of Pastor At Boshoff.
They have a number of bases in the United Kingdom. A number of their followers from Harlow attend their services in Bromley-By-Bow.
If you look at their website, there appears little to distinguish them from other evangelical churches.
Their mission statement is: "We believe that we are called to make a difference in the world that we live in. At CRC we strive to stimulate growth in our members through relevant teaching, passionate worship, loving care and small group interaction (homecells), by releasing members to function in their gifts and talents and by encouraging them to reach out to others. If you are looking for a church where you can experience love and where you can fulfil your God-given potential, we trust that you will find a home at CRC".
The message of prosperity theology is a key part of their teaching but that is nothing new. Many churches quote the "Parable of the Talents" in the Bible.
YH understands that CRC is also described as a tithing church, that is to say, it has a form of fundraising that may be linked to your income. Nothing unusual there (see Mormons for details).
But what caused concern for a number of residents was when they looked at the Twitter accounts of the two pastors for the church in Bromley-By-Bow.
A study of Pastor Thabo Marais' and Pastor Karen Marais' accounts will see tweets and retweets which are dominated by a number of themes.
Vaccine scepticism
Anti-abortion
Concerns over bans on gay conversion therapy
Examples are below
To be clear, the main website for CRC (https://crcchurch.com) has a link to South African government's Covid-19 website.
However, this still leads us to wonder, in what way did the managing director of the Harlow Leisurezone think this church was a "good fit"?
We did invite the Leisurezone to comment but they have not replied back.
We did attempt to liaise with members of the Harlow and District Sports Trust but they were also unwilling to issue a statement.
As it stands, the application is still on the Harlow Council planning portal. The fact that a number of objections have been raised means that it may well go in front of the planning committee.
If CRC does move in, it will be where Science Alive once was. At the moment it is being used as a vaccination centre.
Last week, Harlow MP Robert Halfon brought up the matter that the Vaccination Centre may be asked to move out despite the fact that up to 60,000 residents have yet to receive their second vaccine.(see YH Covid channel).
Mr Halfon said: "I was deeply concerned to learn that the vaccination team may be asked to move out from the Leisurezone soon. I understand that the Christian Revival Church is due to move in to the Leisurezone from 1 August 2021 and that this will result in the vaccination centre being required to relocate".
YH contacted CRC by e mail but they did not reply. YH then contacted CRC by phone and they confirmed that they are hoping to open a church in Harlow.
YH has spoken to a Harlow resident who is full of praise for CRC and said he is willing to be interviewed.
All documents can be found on Harlow Council Planning Portal at www.harlow.gov.uk
==========================
Letter from Managing Director of Harlow Leisurezone to the Planning Committee.