THE clear-up operation around Harlow following Storm Eunice is continuing and Storm Franklin has also had significant impact on HTS* resources and caused further damage around the town.
As we would expect there was significant demand from residents reporting fallen trees and debris as well roofing, guttering and fencing damage. HTS teams and sub-contractors have worked through the weekend to deal with emergency calls as they arise and calls are still coming in. This morning up to 11am the HTS call centre dealt with 245 requests mostly relating to fencing repairs that are required.
Trees
Since Friday (18 February 2022) HTS has attended to over 90 reports of significant tree damage. Fallen trees continue to be reported to the council. HTS continue to respond to the reports on a priority basis.
Roofs
A significant number of reports of loose tiles continue to be received. HTS are putting up scaffolding required to properties over the next day or so. The council's housing team is in contact with tenants who have suffered significant roof damage.
Fences
Calls reporting broken fence panels continue to increase with over 200 requests received to date. HTS continue to send teams out to make safe and this work will continue into this week and next week.
Debris clearance
HTS teams continue to clear storm debris from the town's cycle track network.
Taking care
Residents are advised to continue taking care when using parks, open spaces and cycle tracks and areas where there are lots of trees.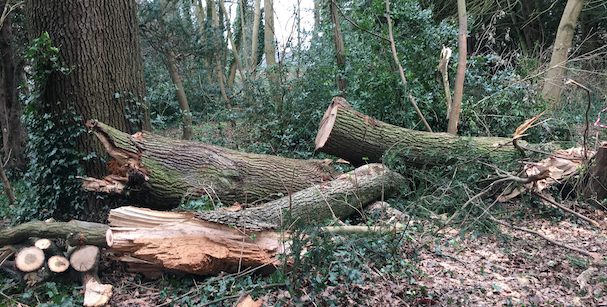 Reporting damage
If you are a Harlow Council tenant you can report storm damage and emergency repairs to 01279 446666
Fallen trees can be reported between 9am and 4.45pm Monday to Friday on (01279) 446655 or to 01279 446666 outside these times.
Fallen trees on roads should be reported to Essex Highways on 0345 603 7631.