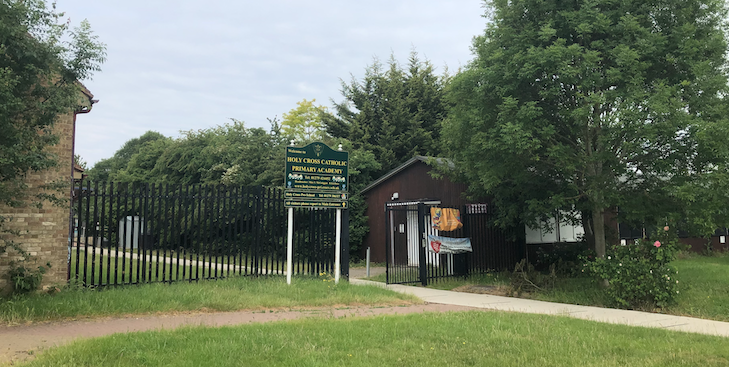 PARENTS at Holy Cross Primary have launched a petition in protest at a decision to mix their classes.
In a joint statement, one of the parents has told YH why they are unhappy.
The parent said: "We are writing to express our deep concerns regarding the recent decision made by Holy Cross Catholic School to mix the classes. It has come to our attention that this decision has not been adequately communicated to parents, which has left many of us feeling blindsided and unsettled.
"While we understand that schools have the authority to make such decisions, we firmly believe that it is not the right course of action in this particular situation. This sudden change disrupts the stability that our child, who shall remain nameless, has come to rely on during his schooling journey. It is highly unjust to subject him, and other students, to such an uncomfortable and anxiety-inducing scenario, especially considering the challenges they have already faced due to the ongoing pandemic.
We acknowledge that there may be students who require additional support during school hours, and we fully appreciate the importance of addressing their needs. However, we firmly believe that jeopardizing the well-being and educational experience of the majority of students is not the appropriate solution. Instead, we suggest exploring less disruptive approaches, such as the implementation of teaching assistants, which have been proven effective in schools nationwide.
Let us emphasize that we are wholeheartedly supportive of the school's efforts to make positive changes and foster development. We always have our children's best interests at heart. However, this particular decision has already caused considerable distress among our young ones simply at the thought of losing the only stability they have known throughout their schooling experience.
While we understand the importance of running a school and leading change, we must stress that our primary concern as parents is the happiness and well-being of our children. Therefore, we urge you to help us raise awareness, in the hopes that the school will reconsider this announcement and allow our children to continue their development in a nurturing environment alongside the classmates they have grown to bond with.
Please share this petition https://chng.it/SdVTyYfYvN
A spokesperson for Holy Cross Primary said: "We will be mixing children in their classes within all year groups next year.  
"This is normal practice in the majority of primary schools in Harlow and like these schools we see the benefit of this.
"As a Catholic school with a strong Catholic ethos, we believe in the importance of children being given the opportunity to be with other children that they may not already know well and to make new friends.
"It is preparing children for life beyond the classroom".