IT is just five days until a number of brave Harlow residents take part in the London Marathon.
We have been following a number of the runners who, for a number of months, have been pounding the streets in order to get ready for the demands of running 26 miles and 385 yards.
There are those that compete for Harlow Running Club or Harlow Athletics Club but there are also those who are doing this as a once in a lifetime opportunity. Here is how they are getting on.
Georgina Heath
Georgina is a Church Langley primary school teacher. She is running for MacMillan Cancer Support.
Georgina said: "I can't believe there's only a week to go now!
Training is going well, we got to 20 miles the week before last and then have done shorter miles throughout this week. 20 miles was tough but we did it! I'm lucky to be able to run with my friend Sam as we support and encourage each other each step of the way.
I am looking forward to it, I'm extremely nervous but also excited. I hope the atmosphere from the crowds pull me through.
I haven't got any race plans or times I want to complete it in. I just want to get to the finish line and soak up the atmosphere.
My friend Sam and I will be getting the train up early enough to experience the atmosphere and use the facilities before hand. We have lots of friends and family coming up to support us so will look forward to seeing them along the way!
So far I have been so overwhelmed by the generosity of friends and family and only have about £40 left to hit my target of £2500.
===================
Samantha Edwards
Training is going well thank you. We managed our 20 miles on Tuesday 9th April which was tough, but so glad we did it. Since then, we've just been keeping our legs going with frequent short runs, other exercise and lots of stretching!
I'm feeling very nervous about it at the moment, but excited too!
I'd love to finish within 5 hours, but it's a once in a lifetime opportunity. I just want to enjoy the experience, soak in the atmosphere and have fun! If it takes longer, I won't beat myself up about it. It's all part of the marathon experience.
We will be getting the train up in the morning of the race which will take about 90 mins.
There's still time to sponsor- I'm running for St John's Ambulance. Below is a link to my justgiving page :
https://www.justgiving.com/fundraising/samantha-edwards-31
Nicola Stripp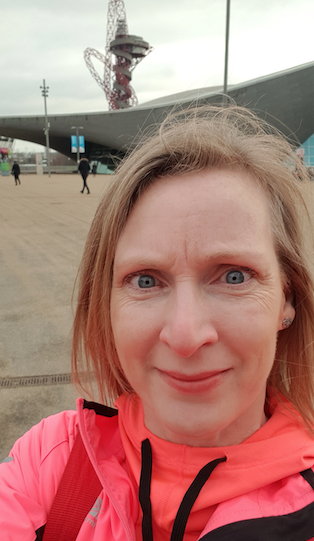 Training is going really well. I have a training plan which is only 2 days per week, so have been doing my long run on my day off, and a shorter run in my work lunch break. I've loved the routine of the training.
Looking forward to it? I am so excited. I've waited so long to do the London Marathon, and can't believe its finally happening.
Race plans? Time? I'll be running with a couple of friends who I have met through Widowed And Young. I'm hopeful that I can finish in under 5 hours, but my main focus is to just enjoy it as a once in a lifetime experience.
There is still loads of time to sponsor me to raise funds for Ability Bow! I'm so grateful and would like to say a HUGE thank you to everyone who has sponsored me so far.
==============================
Daryl Pollard
Training has gone really well. Even though I started later than planned due to my Hernia op in January I have managed to pretty much fit in the training plan into a shorter period.
With only a few days to go i am starting to get a little nervous which I guess most runners do especially on the first go. However I am really looking forward to it.
My plan for the race is just to go out and enjoy the day but I am hoping for an approx finish of under 4hrs 30mins
There is still plenty of time to sponsor me at www.justgiving.com/DarylBP
===========================
Tara Young
Nerves are at an all time high Haha. So I am very nervous but confident. I have had a few injuries including plantar fasciitis and a chest infection which gained a few missed runs but it happens. I am staying at my friends Saturday night because they live in Woolwich so I will be right at the start line come race morning!!
I would like to finish anything under 5.5 hours but mainly want to soak up the day. I have £550 to gain to hit my target
============================
Emma Elven
We asked Emma Elven, how she got into running, how she prepared and her hopes for the big race.
Emma said: "As someone who just occasionally ran a Parkrun I followed a beginners training plan but adapted it for 'jeffing' or Run/Walking ( on the advice on running coach Adrian Fell). I have trained for six months and surprisingly I've really enjoyed it.
I am so excited for tomorrow. My plan is to enjoy it, take in all the sights, take lots of photos and just have fun.
I was aiming for a time of six hours but I'm not to worried about it as long as I get the finish. Its more important that I see my friends and family along the way!
I will be jumping on the tube at Epping to get to the start. I think I will add to the whole London race day experience.
I was lucky to get a Ballot place so I have chosen to raise money for two charities.
I work at Passmores Academy so I was important to me to support 'No Child Without'.This charity was set up by staff at Passmores and supports the young people in our community. My second charity is Bluebell Wood Children's Hospice.