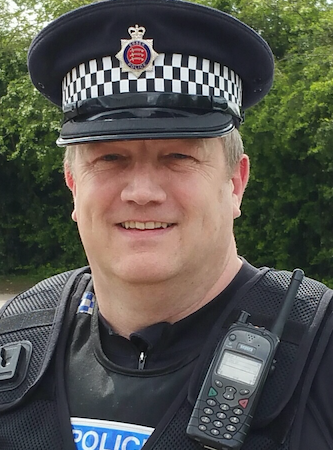 THEFT from motor vehicles continues to be an issue in the area especially with vans being targeted and tools stolen from within, we have increased our patrols, seized several vehicles containing stolen tools and made a number of arrests. If you are the owner of a van please take steps to prevent yourself being a victim of crime, where possible remove valuable equipment from vehicles overnight. Park in well-lit area's & close to buildings preventing access to doors, if you have access to a garage or secure lock up please use it. Many of the vehicle offences occur overnight so if you see anything suspicious please make a report so we can investigate. www.immobilise.com is a free service where you can register your valuables and equipment, giving us more opportunity to reunite property with its owner should it get stolen and recovered. There is also a great deal of crime prevention advice on the Essex Police website www.essexpolice.co.uk
Five more officers have recently been trained on the use of speed detection devices and have put this to full use conducting speed checks in Church Langley and Parringdon Road. I have seen from social media various requests for checks to be done in other area's and we will make sure that checks are carried out throughout Harlow, whilst this is an excellent way of promoting road safety and reducing accidents it's also a good way of identify those who use vehicles & the road networks to commit crime. We have also been listening to feedback from the public and with an increase in staff we have been able to provide a more visible presence especially with officers on foot patrol together with our colleagues from the Community Safety Team at Harlow Council.
Essex Safeguarding Board in partnership with the Children's Society & Barnardos are holding an event for parents & carers to learn more about criminal & sexual exploitation, children that go missing, gangs, youth violence, trafficking and online sexual abuse. The event will be a chance to drop in and speak to a range of professionals that can offer advice and support, there are a number of talks throughout the day which you can book in advance or just attend on the day (subject to availability) Saturday 15th June 10am-4pm at The Harlow Playhouse. More details can be found at www.escb.co.uk/exploitation.
The Community Policing Team regularly place posts on our Facebook & Twitter sites giving information on our day to day work and is well worth a look, we often have appeals for information and circulate details of wanted people and information regarding recent crime. The sites also gives information on our public meetings, you can find this by following Essex Police – Harlow.
The Community Policing Team have officers dedicated to specific wards, they are your local officers and should be a point of contact for community issues. The beats are a collective of council wards;
Netteswell & Toddbrook – Pc's Carl Wright & Lauren Murray. Pcso's Laura Cartwright, Rachel Ranson & Rebecca Durrant
Hare Street & Little/Great Parndon – Pc's Harriet Dodd & Paul Harrison. Pcso Sharon Macdonald.
Mark Hall & Bush Fair – Pc's Jason Hardy & Trevor Arnold. Pcso David Moore
Staple Tye & Sumners – Pc's Allen Kittles & Craig Upton. Pcso Tony Gibson
Old Harlow, Church Langley & Harlow Common – Pc's Chris Oliver & Neil Armor. Pcso Peter Kearney
As always the Police Station at Harlow is open daily between 9am & 5pm. Contact can be made with the Community Policing Team by calling 101 or emailing [email protected] . Follow our Facebook & Twitter pages for regular updates. Information can be passed anonymously to Crime Stoppers on 0800 555 111 or at crimestoppers-uk.org
Tony Walker
Inspector 2525
Harlow Community Policing Team

Popularity: 1% [?]