A POPULAR primary school is looking to double the number of pupils it enrols each year.
A public consultation has been launched to gather views on the expansion of Freshwaters Primary Academy, in Harlow.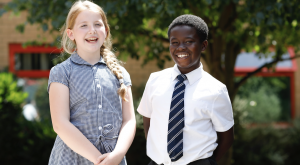 Ofsted confirmed the school as Good in March, having first given the grading in 2015.
To cater for the school's popularity and the growing number of primary aged children in Harlow, it is proposed to permanently expand the school from one to two forms of entry.
The move would enable the BMAT school to take 60 pupils each year from September 2020 instead of the existing quota of 30. It would also result in a financial investment in the school by Essex County Council to overhaul the facilities.
Helena Mills CBE, BMAT CEO, said: "The population of primary age pupils in Harlow is increasing and, as a result, there is a need for additional primary school places.
"We are well-placed to meet this additional demand and, in return, there will be a very significant investment by Essex County Council in the school which will create new high-quality accommodation and refurbish parts of the existing site.
"The school has already accepted this number of pupils to meet the school place planning need and in response to parental choice. Therefore, the proposed expansion has proven to be manageable. It will benefit all pupils in the school, who will be educated in much improved surroundings and with better resources.
"The school will be able to raise standards further and offer even better opportunities in the future with its new state-of-the-art facilities."
The Freshwaters Expansion Project Consultation runs until Tuesday July 9. Parents and members of the community are invited to attend public consultation meetings on Wednesday June 26 at either 2.30pm or 5pm.

Popularity: 1% [?]