College Stars on the Red Carpet at Oscars Event
THE sixth annual Harlow College Media Oscars were held for the first time at the Cineworld in the Harvey Centre on 11 July, where students from media and animation were celebrated and awarded for their stunning creative projects.
Cameras flashed as the students arrived and, with their friends and family, paraded down the red carpet to take their places in the main auditorium.
The evening was hosted by Level 3 Media students Destiny Reid and Brandy Sawadogo, who were relishing the opportunity of putting huge grins on their classmates faces by ripping open the gold envelopes and announcing the winners.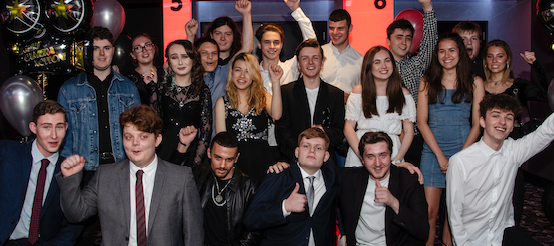 "I put us both forward to host the event" said Destiny. "We're really excited and it's great to be here at the Harvey Centre Cineworld. The facilities here are amazing."
"We've got our double act worked out", said Brandy, who is going on to study advertising at the University of Leicester.
"We'll be fighting over who announces the overall winner at the end of the evening. "We've already had a sneak peek at the work that will be shown tonight and it looks really cool", added Destiny.
Assistant Academy Manager, Delta Muntean said: "Yet again, the standard of work in each category has been amazing, from short film through to animation. I can't praise these very talented students highly enough. They all deserve to go on to great things!
"I also want to thank Cineworld Harlow for their continued support. Each year, their help and support is invaluable and it's great for our students, with their friends and family, to hold the Media Oscars in such a welcoming and professional environment."

Popularity: 1% [?]