ST MARK'S West Essex Catholic School are today continuing to celebrating another set of results that yet again demonstrate good performances against all of the key achievement measures.
Headteacher, Elaine Heaphy, commenting on the results, stated, "Following on from our successful 'A' level results last week, I am delighted that the hard work of our Year 11 pupils and their teachers has been rewarded with these results. I am proud of every pupil in accepting and meeting the challenges of these exams. Against a backdrop of change and uncertainty, for teachers, pupils and parents, we have maintained achievement and we are delighted.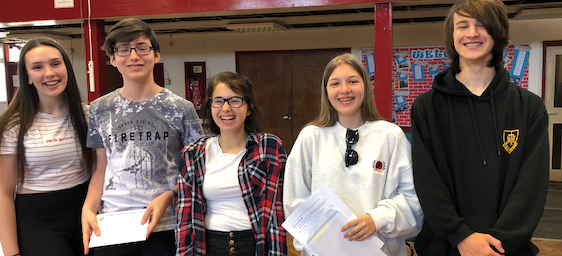 This year given a much tougher examination environment, our pupils have excelled, vindicating our long-standing commitment to a broad-based academic curriculum. Our emphasis is always on the individual and developing them as a whole person and our curriculum supports this, allowing them to study the full range of subjects, which unfortunately many schools have discontinued.
From this position of strength, our pupils are now starting the next part of their journey at our Sixth Form, which last week showed great success, with 95% of our pupils heading off to university. I look forward to welcoming, into our Sixth Form for the new academic year, this year group of pupils, along with many new pupils from around the town."
Initial results (pending remarks and appeals) show that 82% of pupils passed the threshold in English and 69% in Maths.
There were many examples of outstanding individual performances with most pupils not only achieving their target grades but a number exceeding them.
The following pupils are just some of the pupils who made exceptional progress and exceeded their targets:
Szonja Nagy, Lucas Matheus, Owen Moses-Ilade, Niamh Fitzpatrick, Shruthi Thomas, Kistie Harding, Daniel Eby Thomas, Brena Bostani, Caitlin Berry, Riya Sanjay, Amir Schultschik
In addition the following pupils all achieved at least 8 grades 9-7 (numbers indicate number of 9-5 passes and the numbers in brackets indicate the number of 9-7 or equivalent grade):
Tia Kelchure 10 (10); Thomas Wolf 11 (9); Roya Besheya 10 (9); Nicola Dalisay 10 (9); Isaac He 10 (9); ; Mark Abdelmalek 9 (9); Emma Knudsen 9 (9); George Sapcaliu 10 (8); Maria Stedman 10 (8); Diana Trascenko 10 (8).
A grade 7 is comparable to the old grade A, a new grade 4 is comparable to the old grade C.