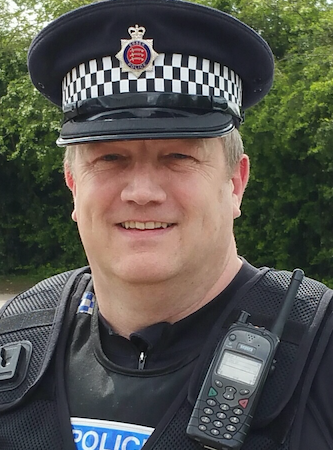 By Insp Tony Walker
THE past month has been an incredibly busy one for the Community Policing Team at Harlow, starting off with the sentencing a of 9 people, 8 from Harlow for a number of burglary and vehicle crime offences including the theft of ATM machines throughout Essex and beyond. This investigation was managed by the Serious Crime Directorate and took many months and those involved were sentenced to between 3 & 7 years, for obvious reasons this work couldn't not be publicised during the investigation but the sentencing goes someway to show the impact that this group had on the local community. A huge amount of work was done locally to support this investigation.
Officers from Harlow also supported colleagues in Thurrock following the very tragic circumstances of 39 bodies being found deceased in the back of a lorry after it had entered the UK from Europe, probably one of the largest investigations to take place in Essex with enquiries stretching across the world, local officers provided support in a number of areas including the preservation of scenes and providing support the local community, a truly tragic event which continues to be investigated.
The team executed four drugs warrants in Harlow, made a number of arrests and seized a quantity of drugs, warrants were executed in Brays Mead, Ridgeways, Newstead Way & Collins Meadow, at two of the address where large amounts of drugs were found those persons arrested were kept in police custody and placed before the next available court. These warrants do take up a significant amount of time with officers seizing the drugs, making properties safe, interviewing suspects and preparing case files for court. Drugs play a significant part in violent crime and anti-social behaviour in Harlow which we will continue to work hard to reduce.
Many of you raise concerns around drunks and rough sleepers in and around the bus terminal in Harlow over the last month we have been working closely with the Council Community Safety Team to address these concerns, arrest have been made for public order offences and 10 Community Protection Warning Notices have been issued, alcohol has been seized of and disposed in line with the Public Spaces Protection Order and we have been working with other agencies to secure shop fronts and to ensure local business's sell alcohol appropriately and in line with their licence. Harlow Council have also worked with local charities to provide help and support to rough sleepers as the weather becomes colder.
There has been an increase in garage burglaries and the theft of number plates, garages are often seen as an easy target as they are often not always left as secure as other buildings and stolen number plates are used to commit further crime. I would urge residents to take precautions to ensure they do not become a victim of this type of crime. We have security devices available that we give out to those affected by burglaries but as always a wealth of crime prevention advice can be found at www.essex.police.uk.
Additional officers have been on duty on Halloween, at the fireworks display and on firework night, this has resulted in a reduction in the number of calls to police regarding anti-social behaviour which normally increases over this period. It was great to see many thousands of people enjoying a well organised safe Fireworks display provided for free by Harlow Council. It was also good to see a community event in Newhall on Halloween which no doubt reduced anti-social behaviour in the area, some of the team took time out to meet with youngsters and give them a guided tour of the police van.
Need to contact the Community Policing team for non-urgent matters? Please email [email protected] or call 101.