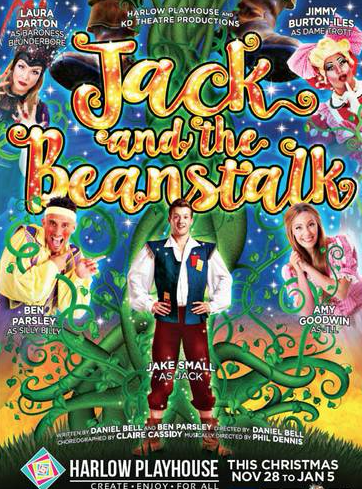 Harlow Playhouse presents this year's GIGANTIC PANTOMINE.
Fe Fi Fo Fum- ready or not here we come!
Life is good for the Trott Family with their farm thriving more than ever, but there is one slight problem…Giant Blunderbore! It all takes a turn for the worse when the Giant kidnaps Daisy the Cow and the rest of Dame Trott's beloved animals. Will Jack be able to fight Giant Blunderbore and save Daisy? What might be just a bag of old beans could just be the start of a new adventure for the Trott Family!
Expect new surprises, jaw dropping effects and lots of old and new laughs for all the family!
Starring Harlow Favourites Jimmy Burton Iles as Dame Trott and Ben Parsley as Silly Billy alongside a professional cast and live musicians, there really is no better home for pantomime in Essex this Christmas!
For more details go to https://playhouseharlow.ticketsolve.com/shows/873598434/events/128186376?_ga=2.171758816.1978018120.1574070418-1216919054.1569492948