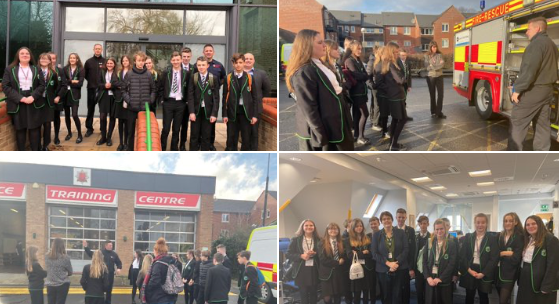 Students thank Essex County Fire and Rescue Service for inspiring them
TWELVE students from The Ongar Academy visited the Service's Headquarters today (16 January) to learn more about the different roles within the Service and about the variety of career opportunities on offer.
Watch Manager Dave Bond from Blue Watch at Orsett Fire Station organised the visit after working with Unity Enterprises East Anglia, a local charity that coaches and mentors young people aged 12-25.
The visit was organised as a way of opening up young people's awareness around careers and opportunities within the Fire Service.
The students spoke to different members of staff about their roles within the Service and how careers in a variety of sectors, including the Ambulance Service and charity sector, have helped them in the Fire Service.
Dave Bond spoke to the group about his career with us and how he has drawn on experience from other jobs he had before he joined Essex County Fire and Rescue Service.
Dave said: "You never know what experience you'll end up drawing on in situations and I spoke to the group about how when working as a sound engineer around the world, I learnt to communicate with people who spoke different languages and this has served me well to communicate with the different communities in Essex. The skills I learnt setting up my own business have helped with project management."
The group then had a tour of the Service Headquarters, the Control Room and the Police, Fire and Crime Commissioner's Office before heading off to the Service Training Centre in Witham.
The students thanked Dave and the team for the experience and commented on how passionate everyone in the Service was about their roles.
T\