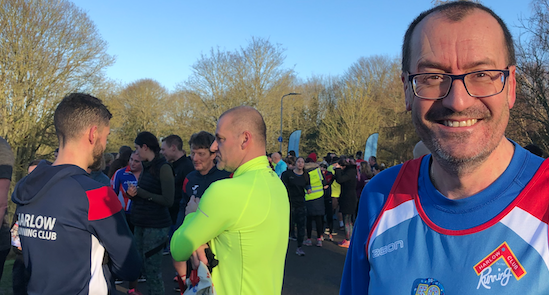 JUST under 400 participants took place in the Harlow parkrun on Saturday morning in the town park.
Under brilliant blue skies, it was the third time that the participant number record had been broken in 2020!
Since it began, in November 2014, the 5k traverse around the park has seen its numbers grow from a niche 80 to 90 to touching on 400.
The numbers are testament to the dedication of the organisers and the enthusiasm of Harlow residents, keen to get fit and stay fit.
Each participant has a different story to tell. This includes Nick Goff (pictured above) who celebrated running his 50th parkrun on Saturday.
Nick said: "Since my first run, in November 2018, my time has improved from 33 minutes to my best time, in August, of 23.11
"As well as improving my 5k times, I have lost 20 kilos, run three half marathons, made a number of friends, joined Harlow Running Club and signed up to run the Brighton Marathon in April.
"Harlow Parkrun is a wonderful thing. Thanks to all that make it possible"
In April, Nick is running the Brighton Marathon in support of the charity Blind Veterans UK (Formerly called St Dunstans).
Blind Veterans UK, helps ex-Service men and women of every generation overcome sight loss.
They provide rehabilitation, training, advice and emotional support.
If you would like to sponsor Nick, go to the following link https://www.justgiving.com/fundraising/nick-goff