HARLOW Running Club hosted the 3rd round of the East Herts and West Essex Cross Country League on a mild but breezy Sunday morning. The 5 mile course started and finished on Newhall playing fields then continued onto the very muddy surrounding woods and farm fields. The men's team fared better on the day, finishing 3rd team out of 4, with the ladies team in 4th place and overall HRC were 3rd. The other teams being Bishop's Stortford RC, Ware Joggers and Saffron Walden Striders.
Ladies
5 Leanne Bennett
14 Terri Wiley
18 Laura Prime
19 Gail Nicholls
23 Kerry Mavris
31 Tracie Cook
33 Sandra Webber
37 Joy Hale
38 Liz Roberts
39 finishers
Men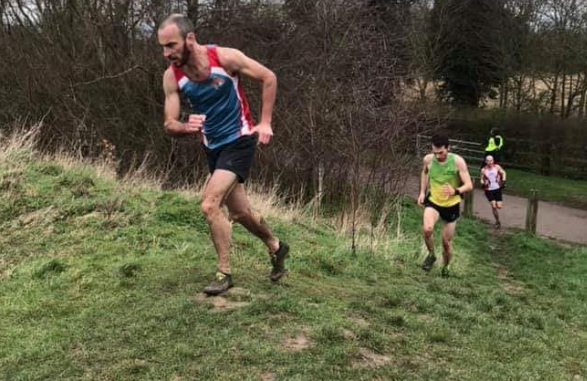 3 Martin Westley
10 Rob Lowe
20 Ryan Smith
22 Kirk Crudgington
23 Lee Webber
27 Andy Terrell
28 James Dowsett
31 Andy Smith
33 Josh Shelton
36 John Gifford
37 Kevin Smith
42 Terry Ridge
45 Marc Witham
54 Michael Robey
55 John Tennant
58 John Bull
66 Alan Cootes
73 Robin Lozeau
79 Tony Harman
84 finishers
Meanwhile at the St. Peter's Way Ultra, a 45 mile muddy trail race meandering through the countryside from Chipping Ongar to the coast at Bradwell on Sea, Darren Coates finished in 85th place out of 85 finishers in an exhausting 12hrs 49min 16sec.
At Hampton Court Half Marathon Danielle Moeser, in her debut at the distance, finished in 976th place out of 2836 finishers in 1.46.25.
At the multi-terrain Baldock Beast Half Marathon Gary Mead finished in 155th place out of 379 finishers in 1.55.03, Dionne Jones was 168th in 1.56.03, Pasquale Pellecchia 312th in 2.16.19 and Debbie Cooper 334th in 2.20.52.
At the Tarpley 10 Mile race at Bury St. Edmunds Andy Kinney finished in 302nd place out of 349 finishers in 1.53.42.
Several runners completed parkruns on Saturday morning including 67 at Harlow parkrun.
Harlow parkrun
7 John GIFFORD 19:15
8 Ryan SMITH 19:36
11 Andrew TERRELL 20:25
15 Andy SMITH 20:46
16 Kevin SMITH 20:58
21 Jon WAIGHT 21:19
24 Colin BAKER 21:37
26 Lex ELLINGTON 21:55
27 Darren TILEY 22:00
31 Marc WITHAM 22:13
32 Andrew KITSON 22:15
35 Jason FOX 22:27
36 Terri WILEY 22:33
39 Mick MADDAMS 22:52
47 Bobby DRAPER 23:26
49 Dominic EMERY 23:59
53 John BULL 24:13
56 Michael ROBEY 24:48
57 Sergio PELADO 25:00
58 Paul DIXON 25:03
59 Oliver SKIPPER 25:07
61 Francesca TYE 25:18
65 Matthew AUSTIN 25:37
67 Steve WARREN 25:44
71 David JOHNSON 25:55
84 Laura PRIME 26:21
93 Catherine RIDGE 26:47
94 Daniel FINCH 26:51
96 Louise COOTES 27:18
101 Antonella CRUDGINGTON 27:25
102 Graham SAVILLE 27:31
105 Alan COOTES 27:44
113 Tony HARMAN 28:20
121 Vincent MARTIN 28:50
124 Terry PIKE 28:56
126 Jane EVANS 29:01
136 Lee WALKER 29:28
140 Kate BABB 29:45
160 Louise PEACOCK 31:19
161 Debra MONK 31:20
166 Heidi FOX 31:36
171 Joanne MILLS 31:47
176 Lindsey PEARSON 32:20
180 Hossein ERFANI 32:34
183 Terasa HOLDEN 32:59
197 Peter CLEVERDON 33:48
198 Helen BARNES-MARTIN 34:02
199 Teresa WARREN 34:02
201 Susan MALONEY 34:21
206 Ros GOFF 34:32
210 Dawn ELFORD 34:46
211 Alison WALKER 34:46
214 James DOWSETT 35:12
219 Melanie HARRIS 35:59
220 Luella DIXON 36:00
226 Paul HORSCROFT 36:29
231 Sarah WALKER 36:40
238 Julie BULL 37:21
272 Ronald PEACOCK 43:29
274 Karen KITSON 43:55
276 Sue SHILLING 43:58
277 Elizabeth COXALL 43:59
280 Pauline WEIRICH 44:51
288 Sara COOMBE 51:46
295 Terry RIDGE 56:25
297 Yasmin GREGORY 57:42
298 Andy KINNEY 57:44
298 finishers
Hackney Marshes parkrun
6 Martin WESTLEY 16:59 PB by 15s
43 Paul SCHRODER 20:32
160 Wendy SCHRODER 25:51
372 finishers
Gunpowder parkrun, Waltham Abbey
5 Daniel JEPHCOTT 18:30
13 Michael WOODRUFF 20:09
90 Paul CADOGAN 27:18
148 Helen BARRELL 31:33 PB by 9s
157 Kat WILSON 32:25
254 finishers
Walmer and Deal Seafront parkrun
6 Lee WEBBER 20:16
206 finishers
Exeter Riverside parkrun
27 Jack SHURY 21:02
383 finishers
Hartlepool parkrun
9 Jamie JEPHCOTT 22:22
110 finishers
Castle Park parkrun, Bishop's Stortford
69 Simon COUPER 24:54
79 Justin PATTEN 25:15
134 Janice PAGE 27:17
324 finishers
Wimbledon Common parkrun
148 Robin LOZEAU 27:32
379 finishers
Billericay parkrun
128 Alan WELLBELOVE 28:04
305 finishers
Westmill parkrun, Ware
29 Holly DAVIS 28:27
45 Teresa STICKLAND 32:10
75 finishers
Great Dunnow parkrun
30 Hazel KURZ 28:46
67 finishers