WITH a halt being made to the athletics calendar due to the coronavirus pandemic, YH has taken the time to ask some of Harlow's runners the following questions:
Question: If you had to retain just one medal, which one would it be and why?
One running memory. Could be some aspect of a race, a train run. Anything.
Here are their answers.
Greg Tye: "I think for me, my most treasured medal is my Berlin Marathon medal. It wasn't my first marathon medal, but I felt like out of all of the medals I have, it was the one i'd worked hardest to earn, and still probably one of the best runs I've ever had.
Also just a really cool medal with the Brandenburg gate and the national flag as the ribbon.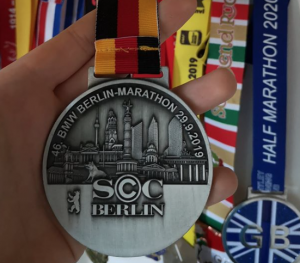 =========
Martin Elven: "My first sub 2 half, Pleshey Half Marathon 2018. I'd ran the race for the two previous years and finished in exactly the same time twice, 2:01:45.
I'd trained really hard for this, and was in good form, having broken every other distance PB that year. But this was my A race, and I felt good.
"I went off slightly fast, but settled into my pace reasonably well, and maintained it consistently. Had a rough patch between 12 and 13km, but got through it.
Got to 19km and it was apparent I was not just coming in under 2hrs, but hitting a massive PB. The last km is an uphill drag which flattens off just before the finish.
"As I came up the incline I could see Adrian Fell jogging back to see if he could find me, and presumably pace me home. I have never forgotten the look on his face, as I suspect he didn't plan on seeing me only around 500m from the finish.
"I crossed the line in 1:46:21, and whilst the medal is somewhat understated, it never fails to raise a smile every time is look at it."
==========
Serena Beresford: "My London Marathon Medal, which I ran last year. I trained so hard, which included Manchester Marathon as a training run three weeks before.
Running London was my dream race, and third time lucky for me in the ballot.
This race is my current PB for the distance- 04:21:12
==========
Sara Coombe" My main medal would be my first half marathon medal. I completed the big half in London 2018 in its inaugural year.
It was the end of a big battle of mind and body through all the training and all depended on how my body was feeling on the day (I have a few ailments that can stop me in my tracks at times) as to whether I would be able to start, let alone finish.
But I did it. It took me 3hr 32minutes but I did it and all with a smile on my face.
It was a fantastic experience and one I will remember long after my body gives up.
===========
Pat O'Flaherty: "For me it is Couch to 5km. I would place a bet that so many runners from Harlow started out with this app. It's a phenomenal catalyst for life change."
=========
Theresa Ann Burke: "For me, my most precious medal is for the 2018 London Marathon. I had previously entered the ballot numerous times and was in awe to finally be successful. This was my first marathon at the age of 64, with the intention that it would be the only one, however I then ran Manchester last year.
I had no plan for London, other than to enjoy it! Such an amazing and emotional experience, and was the hottest VLM day on record.
The feeling crossing the finish line was of overwhelming joy and incredulity, the 11th most special moment in my life! (After the births of my children and grandchildren!).
===========
Darren Rautenbach "My most precious medal is my first Durban Ultra Triathlon from 1993. I was 19 years old, and not very sure if i could finish it, it was the unknown.
Crossed the line totally beaten up, but in love with long distance triathlon.
"The 3.2k swim was warm and salty in the Indian Ocean, a two lap out and back 120k coastal ride with near constant views of the sea, finished with a 32k undulating run.
"Best memory of the day was my brother driving along the bike course feed zone and my girlfriend hanging out the window handing me two hotdogs."
==============
Alex Smith: "My most treasured medal is the one I received for running the Loch Ness marathon. My first marathon, which at the time was also supposed to be my only marathon (placing a tick firmly on my bucket list).
"It was such a mental and physical battle, and I learnt a lot about myself. Most importantly it made me fall in love with endurance running, which in turn has brought with it some of the best friends, challenges and memories I could have hoped for".
============
Kerry Mavris: "Excuse my sentimentality but my favourite medal(s) are my first ever marathon – Flitch Way NYE in 2015.
I entered it really late after they had ordered all of the medals so knew I'd only get a t shirt.
"I was only going to run and walk to see what 26.2 miles felt like in preparation for the London place I'd won for 2016. I ran it all in the end and couldn't believe I'd run a marathon.
"When I got home the kids had made me medals to keep."