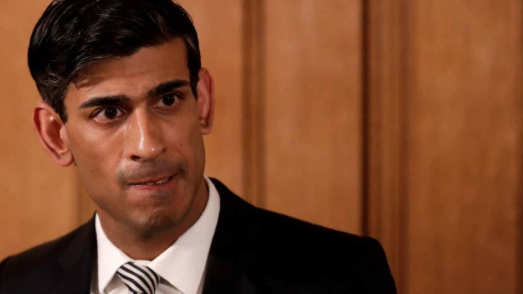 CHANCELLOR Rishi Sunak finally unveiled a coronavirus bailout for millions of stricken self-employed workers tonight – handing them cash payments of up to £2,500 a month.
A week after announcing a massive rescue package for employees, the Chancellor announced support for those who work for themselves and in the 'gig' economy.
Saying he knew people were 'worrying about their jobs and incomes', Mr Sunak said: 'You have not been forgotten.'
But at a press conference in Downing Street he also delivered a stark warning that the government 'will not be able to protect every single job or save every single business' as the deadly disease brings the economy grinding to a halt.
The package offers taxable grants of 80 per cent of average profits over the last three years, up to £2,500 a month.
However, those who have more than £50,000 in annual trading profits will not be eligible, and the scheme is not expected to be up and running until June.
Mr Sunak said 95 per cent of those who make most of their earnings from self-employment will be covered, with those who miss out having on average incomes of £200,000 a year.
There will be a grace period of four weeks for people to file tax returns for the last financial year – without which they will not be able to claim.
Economists have suggested around two million workers could benefit from the package.
Unlike the bailout for employees, which is being channelled through businesses in grants, the government money would go directly to individuals.
Mr Sunak said: 'Despite these extraordinary steps there will be challenging times ahead.
'We will not be able to protect every single job or save every single business.
'But I am confident that the measures we have put in place will support millions of families, businesses and self-employed people to get through this.
'Get through it together and emerge on the other side both stronger and more united.'
Mr Sunak said: 'The scheme I have announced today is fair.
'It is targeted at those who need it the most and crucially it is deliverable and it provides an unprecedented level of support for self-employed people.'
He said: 'These last 10 days have shaken our country and economy as never before.
'In the last two weeks we have put aside ideology and orthodoxy to mobilise the full power and resources of the British state.
'We have done so in the pursuit of a single goal: To protect people's health and economic security.
'By supporting public services like our NHS, backing businesses and protecting people's jobs and incomes.
'What we have done will I believe stand as one of the most significant economic interventions at any point in the history of the British state and by any government anywhere in the world.'
Mr Sunak admitted the very recently self-employed will not be included in the scheme and must look for welfare support.
He said: 'For those who are very recently self-employed, we cannot operate a scheme like this, there's too much complexity both operationally and fraud risk with that, so we would have to say to those people please look at the extra support we've put into the welfare system to help you at this time.
'But, as I've said, this covers the vast, vast majority of people.'
In a strong hint of a crackdown on tax breaks for the self-employed after the immediate crisis has passed, Mr Sunak said he would look to address an inconsistency in self-employed contributions in the future when working to 'right the ship' after the crisis.
He said: 'Rather than be too specific right now about future tax policy, it's just an observation that there's currently an inconsistency in contributions between self-employed and employed.
'And the actions taken today, which is very significant tens of billions of pounds of support for those who are self-employed treating them the same way as those who are employed, it does throw into light the question of consistency and whether that is fair to everybody going forward.
'Especially as when we get through this and are chipping in together to right the ship afterwards making sure everyone is doing their bit as well.
'And I think that is a very fair and reasonable observation to make at this time.'
The government has been facing a furious clamour to bring forward a rescue package for the self-employed, with warnings that it is already too late for many who have been unable to pay their bills after swathes of the economy were forced to shut down to curb coronavirus spread.

Popularity: 1% [?]