THERE ARE many Harlow residents who should have been running the London Marathon today.
They have all expressed their disappointment but they may have had an eye on the sunny weather today and thought that may have been a challenge.
However, they all put in the hard miles over the winter and sacrificed many a Sunday undertaking that long run.
So we asked some of the runners how they feel.
1. Caroline Underhill-Collins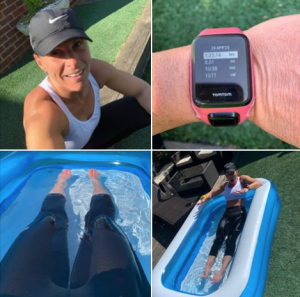 I nearly didn't run today but how could I not today of all days! Actually did further than I planned as I took a wrong turn!
Thought about my running buddies and how much I miss our runs but hopefully back to it soon!
To be honest if the London Marathon was today, this heat would have been awful so every cloud lol!
Andy Jamieson
I had run the London Marathon in 2012 but nevertheless I was looking forward to today. No worries, I am just hoping that it goes ahead on October 4th.
I'm not doing the big mileage at the moment but just ticking over.
I am still fundraising for two charities, Crohn's and Colitis as well as COPS (Police bereavement).
3. Karen Clempner
Karen Clempner has done a lot of running over the past few years. Karen is one of Essex's This Girl Can ambassadors.
Karen said: "Yes, I am disappointed, There is a natural build up to your running as well as your fundraising.
With the lockdown being on, I don't like to go too far so my longest runs just now are just four miles.
I do hope to be back and fundraising for the National Deaf Society.
Thomas Whay
I was disappointed not to have run but absolutely the right decision to postpone. Stuck my cancer research marathon kit on today and did 11 miles around town, saw a couple of others doing the same. Enjoyed every minute in the sunshine and know that I'll have even more miles in the legs ready for October (or next April!)
Kerry Mavris
I was disappointed not to have been travelling into London this morning but have had a while to get used to the idea. I did just over 26.2km this morning on a beautiful day seeing Harlow and the Matchings at their best.
I have loved seeing all of the posts and memories from past London Marathons too.

Popularity: 1% [?]